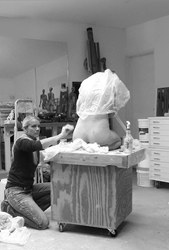 I began writing on my sculptures to show the powerful potential words have to define and even create realities -- what other people say to us and about us can have a dramatic impact on our views and experience in life. Kristine Poole
Santa Fe, NM (PRWEB) April 22, 2015
Kristine Poole's work explores themes centered on sociocultural experience, her sensitive sculptural approach to the figure allowing the inner emotional landscape to be revealed through the external forms of the body. Contrasting classically rendered figures with contemporary motifs and surface treatments, she frequently juxtaposes body language, posture and attitude with text, layering the strength of gesture with the power words have convey, create and define reality and experience.
"Originally, I began writing on my sculptures to show the powerful potential words have to define and even create realities -- what other people say to us and about us can have a dramatic impact on our views and experience in life," says Poole. "Layering text on a figure creates an intriguing dichotomy. We respond instinctively and viscerally to the 'body language' -- the posture and pose in a figurative sculpture -- and more intellectually to the written word. I find that my mind flips back and forth between the visual imagery and being engaged in what the words say, expanding my understanding of the piece. The words themselves, emphasized by the planes of the body, create a pattern and texture as unique as the cadence of someone's speech patterns."
Poole received her Bachelor of Fine Arts degree from Northern Michigan University, graduating Summa Cum Laude with a concentration in ceramic sculpture. She then apprenticed with master ceramist John Glick. Shortly after her move to Santa Fe, NM in 1994, Kristine's creative focus shifted to the performing arts. During this time, she concentrated on teaching and developing choreography-opening her own dance studio as well as founding "Body Flight," a professional dance company. In 2006, she was selected for NM Business Weekly's "40 under 40" award for her contributions in business and community as well as having been recognized nationally with multiple awards for her teaching skills.
Now she has come full circle, applying her refined knowledge of movement, line, anatomy and human experience to her life sized ceramic figurative work. Her sculptures have been shown across the country and have been juried into various international publications, including Lark Books' "500 Figures in Clay," "The 2013/2014 International ARC Salon Catalogue," and "Spectrum 21: The Best in Contemporary Fantastic Art," for which she was also awarded the "Silver Medal" in the Dimensional Category.
About EVOKE Contemporary
EVOKE Contemporary is committed to promoting compelling and provocative contemporary artists of international acclaim. EVOKE Contemporary participates in Last Friday Openings + Artwalks in the Railyard Arts District each month year round.
EVOKE Contemporary is located at 550 South Guadalupe Street, Santa Fe, New Mexico 87501. Telephone 505.995.9902. For more information, visit the EVOKE Contemporary website at http://www.evokecontemporary.com.