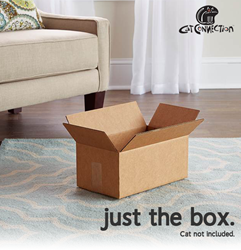 It's easy to forget one of the most exciting parts of e-commerce shopping for cats is the box in which it arrives.
Dallas, TX (PRWEB) April 21, 2015
The Cat Connection has just unveiled what many consider to be the perfect product for cat lovers to gift to their feline friends – or to friends with felines. This week the Dallas-based Internet retailer of premium cat supplies began selling "Just The Box," cutting to the chase by providing cat parents with what their cats truly want.
"Just The Box" is a brand new shipping box dedicated to a cat's entertainment, and comes with half an ounce of organic catnip. No more second-hand boxes for the special cat. According to the website, "Just The Box" is "cat approved" and has "that new box smell." The 14" x 8" x 6" natural-colored, fully-recyclable box provides the ideal canvas for drawing or collage, allowing cat parents and their fur-less children a way to express their creativity, bringing the entire family together.
The company has already received orders for the new cat toy package (box and catnip), which retails for $2.49.
All proceeds from "Just the Box" are being used to expand The Cat Connection's partnership with Dallas-area cat rescue and adoption groups. The Cat Connection provides these groups with a dedicated adoption area in their brick and mortar store, and has aggressive plans to expand that area in the coming months.
Errin West, CEO of The Cat Connection, explains the unique nature of the company's newest product. "Every day our customers browse a huge selection of natural and healthy toys for their cats. It's easy to forget one of the most exciting parts of e-commerce shopping for cats is the box in which it arrives. Now, if it's been a while since your last online purchase or your cat has worn out the last box in the house, 'Just The Box' is the perfect solution for a peaceful feline household."
West is the proud parent of seven cats and the inventor of the wildly successful Jerry Kurlz brand of safe all-natural cat toys that can be found on The Cat Connection website. The Jerry Kurlz products are a safe substitute to the rubber bands and hair ties cats find fascinating but can cause medical issues.
About the Cat Connection
The Cat Connection is the leading retailer of premium cat toys, food and supplies. Their web store can be found at http://www.thecatconnection.com, and their Dallas location can be found at 14233 Inwood Road, Dallas, TX.
Media inquiries contact Errin West: errin@thecatconnection.com