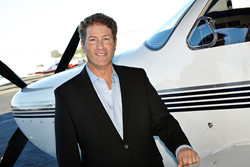 I am looking forward to becoming the first Piper Malibu Mirage pilot to fly solo across the Mid-Atlantic and the Pacific Oceans
San Diego, California (PRWEB) April 21, 2015
The young or old, male or female interested in aviation will soon find out that it is possible to fly between countries and continents in a small aircraft. DeLaurentis, an experienced pilot who has flown solo to many places around the world with another 25 country trip starting on May 17, 2015, believes that with the proper training, preparation and gear this type of travel adventure can be both fun and safe.
The Piper Malibu Mirage aircraft will be on its first worldwide trip, which according to statistics on the Earthrounders website, is the first attempt by a pilot flying alone. The plane will be equipped with a "Blue Tech" incubator and demonstration platform from Innovative Aviation Technology in San Diego, California. The features include:

Nanoceramic coating called 'Flight Shield' installed by Clean Wings Aviation on the plane to improve range and fuel efficiency by making the skin of the plane more slippery.
Four bladed composite MT Propeller with symitar blades and nickel tips, which is the first time this has ever been installed on a Piper Malibu Mirage airplane in the United States by Advanced Aircraft.
The Plane's engine is being used to build the first Electroair electronic ignition ever put on a Piper Malibu Mirage with a Lycoming engine installed by High Performance Aircraft.
The aircraft will be using the Garmin Flightstream 210 for a Bluetooth connection between the Garmin GTN 750 and an Apple iPad installed by Neal Avionics.
Aviation Technology's, Alt Alert cabin pressurization sensor will be used as a backup for the on-board system.
"It's just fun and a lifetime dream fulfilled," DeLaurentis states. "I am looking forward to becoming the first Piper Malibu Mirage pilot to fly solo across the Mid-Atlantic and the Pacific Oceans, especially as this raises money for a great organization, AOPA."
According to an article on flying around the world on the pilot website, Solo Flights Around the Word, "thorough preparations are the key to a successful flight, and time spent in preparation is an investment that will bear fruit throughout the flight." The article points out that experience matters more than the number of flight hours logged along with the proper planning.
Robert DeLaurentis will release his book, Flying Thru Life, after his return from his solo trip, circumnavigating the world. He is a sought after speaker, pilot, and entrepreneur who brings encouragement and wisdom through his writings and talks. Flying Thru Life has quickly become a premier resource for private pilots and businesses and is recommended by clients at MMOPA, AirVentures, MOAA, and Big Bear Airport Pilots Association.
For more information on Robert DeLaurentis and to book a speaking engagement, please contact Robert at FlyingThruLife.com for more information.