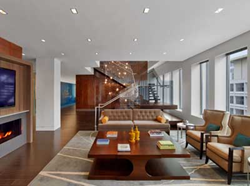 Washington, DC (PRWEB) April 22, 2015
OTJ Architects has recently received several coveted honors. The architecture and interior design firm was presented with two of the 11 IIDA Mid-Atlantic Chapter Design Awards for the design of Accountable Health and National Restaurant Association (NRA). Additionally, OTJ was voted runner-up as Best Architecture Firm in the Washington City Paper's Best of DC 2015 awards.
A total of 40 firms submitted more than 100 projects for consideration at the IIDA award show that was held on April 13.
OTJ's first IIDA award winner, National Restaurant Association, wanted a space that reflected its members' focus on hospitality, increased brand presence and created a more collaborative culture. NRA moved from an all-office environment to a more open space, with more than 60 percent of staff now in workstations. Having purchased the top two floors of the building, NRA built a top floor with 14-foot ceilings and an outdoor terrace with glass NanaWalls.
The heart of the space is the studio kitchen located in the center of NRA's top floor, designed to fill multiple roles: exhibition kitchen, event space, meeting space, and daily café. Increasing collaboration - both through space planning and audio-visual solutions - was another priority. Besides the studio kitchen for all-staff or informal meetings, NRA's headquarters has a variety of meeting spaces including a formal boardroom, a glass-fronted conference room, and a conference room with an integrated mobile bar that can be rolled out for events.
"We had a unique opportunity to weave the National Restaurant Association's Spirit of Hospitality into the design," said Ania Leeson, OTJ Studio Director and Associate. "We worked closely with National Restaurant Association to create a space that reflects their industry, supports their mission and provides their employees with a collaborative and connected workspace."
For OTJ's second IIDA award winner, the shape of the building selected by Accountable Health created unique space planning challenges. Curved walls establish meeting spaces while angled walls create offices and increase efficiency. Exposed ceilings and special lighting evoke an industrial feel and maximize the ceiling height.
Introducing the diverse materiality throughout the design, the custom reception desk is comprised of laminate, medium-density fiberboard with a lacquer finish and wood planks with a live edge. A beaded curtain wall lines the conference room for visual privacy. Along the corridor, Nathan Allen glass adds interest to each angular office wall while modern artwork is displayed in a gallery-like fashion.
"To hear Accountable Health's CEO David Blair express that employees love the new office is a great nod to the hard work and due diligence of our design team," said Lance Jaccard, OTJ Managing Partner. "It is always gratifying to help our clients work more efficiently in an enjoyable work environment."
Contact OTJ Architects to discuss your architectural needs today.
About OTJ Architects
OTJ Architects is a well-respected national interior architecture design firm that has successfully completed thousands of projects throughout the country. Founded in 1990, OTJ is comprised of five studios headquartered in Washington, DC, with more than 60 architects and designers, many of whom are LEED Accredited Professionals. OTJ works on projects coast to coast and is able to consult in all 50 states. The responsive interior architecture consultants create effective environments through listening, understanding and tailored design. These designs focus on helping clients enhance collaboration, company branding and employee recruitment and retention. OTJ's design teams provide clients with personalized attention to create workplace solutions that reflect their unique, individual needs. For more information, please visit http://www.otj.com.