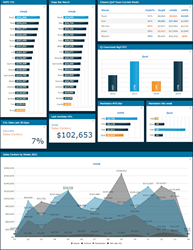 we refuse to foster a 'just-another-dashboard' mentality. It took a lot work to make version 8.0.1 the most intuitive dashboard in the industry
Orlando FL (PRWEB) April 20, 2015
TrackResults's innovative dashboard is the first thing users see when accessing the cloud-based business-intelligence software. The intuitive and graphical view offered by TrackResults provides a crucial snapshot of the state of any company using it. Historically, however, the extensive rendering of graphics, field-level security, and 3D dynamic charts slowed down page loads on mobile devices. This is something TrackResults has worked to remedy, and the new version eliminates this problem altogether.
In addition to this, Tomato Juice has guaranteed connectivity and analytics, with extended charting and graph features in customizable dashboards that can be shared, hidden, and manipulated with underlying data layers and advanced analytics. In laymen's terms, this means that TrackResults is even more intuitive and visually adept at displaying data that helps a viewer identify trends, patterns, and actionable items. Check out more at http://www.trackresults.com
TrackResults revolutionary dashboards are now even more flexible, configurable, and user friendly. "Ninety percent of our clients don't involve their IT department when running or generating analytics on TrackResults, so it's imperative that a "non-tech" user can have a DIY interface," said TrackResults's Sean Nickerson. "However, we refuse to foster a 'just-another-dashboard' mentality. It took a lot work to make version 8.0.1 the most intuitive dashboard in the industry."
TrackResults's new version can be test driven in their booth this year at the ARDA World Global Timeshare Event in Orlando, Florida April 12th through the 16th.
More About Track Results
TrackResults Software is a Utah based software company that offers business-intelligence solutions for the vacation industry. The company's mission is to provide powerful tools for decision makers to access reports, identify trends, opportunities, challenges, and actionable information in order to boost business performance. TrackResults delivers users a uniquely fast, customizable view of figures right when they need them. TrackResults Software is a Chairman's League Member of American Resort Development Association, a member of the Resort Development Organization, Better Business Bureau, Resorts of Distinction, Resort Developers Association, Cooperative Association of Resort Exchangers, AMDETUR, and The Utah Technology Council. # # #