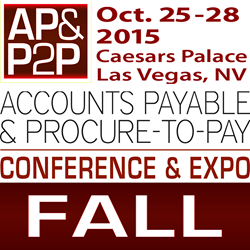 With organizations of varying sizes, structures, and operating budgets in attendance, there really will be something for every business to learn at the AP & P2P Conference & Expo
Portland, ME (PRWEB) April 21, 2015
The AP Network is pleased to announce the dates and location for America's largest, most comprehensive event dedicated to Accounts Payable. The fall 2015 Accounts Payable & Procure-to-Pay Conference & Expo will take place October 25-28 at Caesars Palace in Las Vegas, NV.
More than 500 AP Managers, Analysts, Controllers, and Payable Specialists are expected in attendance. The four-day conference will provide learning sessions, best practices, case studies, and updates for AP professionals to increase staff productivity, reduce operating costs, stay in compliance, prevent fraud, set up shared service departments, and more.
"It's a critical time right now for AP departments everywhere, with new technology developing faster than we can possibly implement it," said Brian Cuthbert, Executive Director of The AP Network (TAPN). "Also with more and more organizations developing P2P and Shared Services, it's a good time for those with experience to step forward and share what they know, and for those who aren't quite there yet to learn from the pioneers. With organizations of varying sizes, structures, and operating budgets in attendance, there really will be something for every business to learn at the AP & P2P Conference & Expo," he added.
The conference will begin with a full day of workshops and AP Certifications on Sunday, October 25 to include Accounts Payable Manager (APM), Accounts Payable Specialist (APS), and Certified Payment Reporting Specialist (CPRS/1099) certifications; followed by two days encompassing keynote presentations, customizable conference tracks, multiple networking opportunities, and exhibitor/vendor hours. AP Certification classes and exams will again be offered following the conference on Wednesday, October 28.
For more information or to register, please see the conference website at http://www.iofm.com/conference-fall or contact Gail Robinson at 207-842-5627/ grobinson(at)divcom(dot)com.
Sponsorship and Exhibition opportunities are available. To learn more, contact Brian Cuthbert at 207-842-5623 or bcuthbert(at)divcom(dot)com.
About TAPN
The AP Network is the largest global community for Accounts Payable, Procure-to-Pay and Financial Shared Services practitioners. TAPN advances the profession and supports its members' success by sharing best practices, tools, and expertise and by fostering peer-to-peer engagement.
The AP Network is one of three membership network within the Institute of Finance and Management (IOFM). IOFM oversees five certification programs which have trained more than 15,000 financial operations professionals worldwide. IOFM's three membership networks (The AP Network, The AR Network and The Controllers Network) feature industry research, benchmarking data, metrics, case studies, tools and other critical compliance resources. The Institute also produces on-demand e-learning resources and industry-leading conferences dedicated to AP, AR and Controllers. With growing certification and membership programs and a keen understanding of the issues and content critical to the profession, IOFM is the trusted source of information in the rapidly evolving field of financial operations.