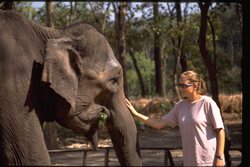 Clients who engage in adventure travel and companies who help them experience the world are in a unique situation to have a true impact in our global community,
Ann Arbor, MI (PRWEB) April 20, 2015
Journeys International, an Ann Arbor-based adventure travel company, is proud to revisit its roots in Earth Day and announce that for Earth Day 2015, Journeys is making a substantial donation to Earth Day Network's Campaign to Protect Asian Elephants. Plus, throughout the year, a percentage of all trip proceeds will go directly into the Earth Preservation Fund (EPF), a Journeys-operated nonprofit supporting local conservation projects in its destinations.
Journeys International was founded in 1978 by the husband-wife team Drs. Will and Joan Weber. But the Journeys story really started eight years earlier, when strangers Will Weber and Joan Schwartz heard about Senator Gaylord Nelson's idea to build a "national teach-in on the environment," focused around one day in April every year that would energize citizens to rally for a healthy, sustainable environment.
Joan and Will worked together on the campus of the University of Wisconsin to help make that first Earth Day in 1970 a huge success. But not only did they play a big part in the start of an international movement; they also joined forces in life. They fell in love. Then, they moved to Nepal, where Will served in the Peace Corps teaching science and helping to start their National Parks Department while Joan taught English. Soon after, they got married and had kids. And throughout that time, they also built a business, Journeys International.
Journeys has continued to celebrate Earth Day every year, and its business model has been guided by the mantra 'Every Day is Earth Day.' For example, Journeys was the first adventure tour operator to develop a Code of Ethics, which guides travelers as they explore the world.
"Clients who engage in adventure travel and companies who help them experience the world are in a unique situation to have a true impact in our global community," said Robin Weber Pollak, President of Journeys International and Will and Joan's daughter. "We experience the beauty and fragility of our world on a daily basis. We see firsthand how a seemingly insignificant act on one side of the globe can affect people and places on the other."
This year, Journeys is putting focus on an issue that affects many of its favorite destinations: protecting the Asian elephants. Large herds of elephants once roamed freely throughout Asia's forests and grasslands, but today, due to habitat loss, human-elephant conflict, and poaching, fewer than 40,000 remain in the wild.
Journeys leads trips to many countries that the Asian elephant calls home, including Cambodia, India, Thailand, Nepal, and Indonesia. On Journeys trips, travelers visit elephant hospitals or sanctuaries, and often stay at eco-lodges aimed at protecting these gentle giants. Journeys' Destination Specialist Kerina Rowley recently returned from Thailand, where she witnessed firsthand the peril facing these animals, as well as the passion of those who are working to protect them. You can read the article about her experience on the Journeys blog.
"Journeys International is already a strong supporter of communities around the world. Through the EPF, we are able to give targeted funding that makes a huge difference in communities' wellbeing, education, and conservation of culture and the environment," Robin noted. "We work with local operators and guides to select grant recipients, and we choose projects that matter to the individuals in the communities that our travelers visit. This year's gift to the Earth Day Network takes us a step further in highlighting two issues about which we feel strongly: protecting the Asian elephants, and perpetuating the message of Earth Day."
Information about the Campaign to Protect the Asian Elephant can be found on the Earth Day Network's website. To learn more about Journeys International, Joan and Will's story, and the EPF visit the Journeys International website.
About Journeys International
Based in Ann Arbor, MI, Journeys International has been creating guided, custom and family adventures for international travelers since 1978. Family-owned and operated, Journeys International's private and small group trips emphasize cultural and environmental awareness, and family trips are designed with all ages in mind. Because of long-standing, unique and personal relationships with guides around the world, Journeys trips offer a superior experience that travelers won't find with any other travel company. http://www.journeysinternational.com.