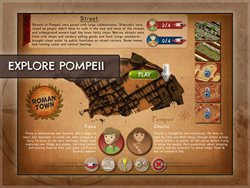 History is not about fact-memorization and dates; it's about the culture and learning how people lived in the ancient world.
Bethesda, MD (PRWEB) April 21, 2015
Dig-It! Games™, an independent developer of educational, interactive games founded by a former archaeologist and middle school teacher, today released the brand new version of the original, award-winning Roman Town game. Roman Town™, now an app for iOS 8 devices, is a social studies-based, problem-solving game that guides players through the ruins of the archaeological site of Pompeii to play challenging mini-games, discover clues, and explore the ancient Roman culture.
The interactive educational game engages middle grade students in the ancient civilization through conversations with characters, exploration of the ruins, and artifacts woven into its mini-games. Designed primarily for players 10-15 years old, Roman Town creates a deeper learning experience that features:

Detailed factual information about Roman history, culture and artifacts;
An active, engaging storyline for immersive learning;
11 interactive mini-games, including Knucklebones and Calculi, which are based on real games the ancient Romans played;
Beautiful, realistic graphics that transport players to Pompeii;
Download for free on iPad.
"History is not about fact-memorization and dates; it's about the culture and learning how people lived in the ancient world," said Suzi Wilczynski, President and Founder of Dig-It! Games. "Roman Town is a part of our goal to make history come alive for students, and with its basis in accurate and detailed information, the game allows for players to become immersed in the culture while being entertained."
In this educational game designed exclusively for the iPad, Fiona and Charlie—the popular characters from Dig-It! Games' series of top-rated games—partner with players to collect clues leading them ever-closer to the location of Ladrone. Featuring two play modes, students must beat both timed and untimed mini-games in order to earn clues from tourists in the ancient Roman city of Pompeii.
Anna, the winning character of the Mayan Mysteries Drawing Contest, acts as a guide to Fiona and Charlie, with the objective to keep the pair out of trouble.
Released five years ago to acclaim for parents and educators, the original CD-ROM Roman Town won several awards including Creative Child Magazine Game of the Year, National Parenting Publications Awards Honors, Common Sense Media On for Learning Award, and the National Parenting Center Seal of Approval.
Meant to be played casually or used as a fun, engaging classroom supplement, Roman Town is the latest app from Dig-It! Games to address the educational needs of middle-school students. Free to download on the iTunes Store, the game has been designed for iPad users. Artifact Snatch™, Loot Pursuit: Pompeii™, Loot Pursuit: Tulum™, Mayan Mysteries™, MayaNumbers™, and Can U Dig It! ™ also cater to the learning needs of middle school children. All six iOS apps are free to download through the iTunes store. Maya Quiz™, a companion to Mayan Mysteries, is available for purchase on the iTunes store.
About Dig-It! Games™
Discover a new way to learn! At Dig-It! Games, we believe in the power of games to promote critical thinking, independent learning, and cultural understanding. Our games incorporate age-appropriate content in math, science, social studies and language arts into fun, interactive and engaging learning experiences. Through our seamless blend of fun and learning, we seek to foster the joy of intellectual discovery and inspire kids to think differently about learning.
To learn more about Dig-It! Games, please visit http://dig-itgames.com. For media inquiries, please contact Elisabeth Wraase at Stanton Communications at (410) 727‐6855 or ewraase (at) stantoncomm (dot) com.