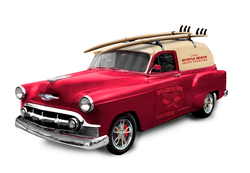 "The vision is to take this Sedan Delivery vehicle and turn it into a classic beach cruiser with a new Chevrolet Performance Connect and Cruise Package. The cruiser appeals to everyone."
North Adams, MA (PRWEB) April 21, 2015
RacingJunk.com, the largest online motorsports marketplace, is teaming up with VisitMyrtleBeach.com to restore and give away a 1953 Chevrolet Sedan Delivery turned beach cruiser. Following a successful giveaway of a 2014 Chevrolet Silverado at the 2014 SEMA show, plans to find, modify, and give away another vehicle came to fruition through a partnership with Visit Myrtle Beach.
"This vehicle is a chance for us to partner back up with some great folks we worked with on the truck giveaway, as well as create new partnerships as we transform this vehicle," says Robert Adams, VP of Marketing for RacingJunk.com. "The vision is to take this Sedan Delivery vehicle and turn it into a classic beach cruiser with a new Chevrolet Performance Connect and Cruise Package. The cruiser appeals to everyone."
The giveaway launched officially nationwide on April 20, 2015 and runs through June 2016. Potential winners can enter online HERE or at any of the events where the vehicle will appear including the VisitMyrtleBeach.com 300 Xfinity NASCAR Race at Kentucky Speedway, the Goodguys 18th PPG Nationals, Back to the Fifties, the Syracuse Nationals, Holley LS Fest, and the SEMA and PRI Trade shows. Entries will also be taken at the Super Chevy shows.
Currently, the vehicle is being restored by Outcast Kustoms in Mooresville, NC in preparation to hit the road in June for the Long Haul of the Hot Rod Power Tour. The build will include parts from Pace Performance, WELD Wheels, Heidts Hot Rod & Muscle Car Parts, and more for a vehicle worth approximately $45,000. The winner may also elect to take a cash prize of $10,000 instead of the vehicle.
For more information on the vehicle build, follow us on the RacingJunk.com Facebook Fan page or here: http://www.racingjunk.com/news/1953-chevrolet-sedan-delivery-giveaway/
ABOUT RACINGJUNK.COM
RacingJunk.com, the world's largest online motorsports marketplace, is a free "one-stop shop" for those looking to buy, sell, trade, or interact with people throughout the automotive and racing and performance communities. With over 750,000 registered members, RacingJunk.com connects more than 2-million buyers and sellers every month, viewing more than 50-million pages. RacingJunk.com is a property of MotorHead Media, a division of Internet Brands, which owns a portfolio of automotive, motorsports and powersports online marketplaces.
MotorHead Media properties include:
OldRide.com, RacingJunk.com, HotRodHotline.com, CollectorCarNation.com, SprocketList.com, BikerHotline.com