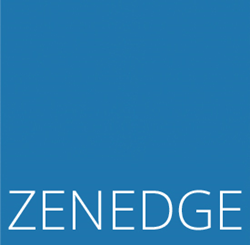 "When it comes to cybersecurity, Tenzing really wanted to partner with a vendor that has the best technology implementation, a strong vision for the future and unparalleled service," said Alex Knight, Manager, Solutions
San Francisco, CA (PRWEB) April 21, 2015
ZENEDGE, a leader in Cloud-based cybersecurity solutions, unveiled its next generation platform today at the annual cybersecurity show, RSA Conference 2015. ZENEDGE provides enterprise-class web application firewall and DDoS protection for Web sites, networks and DNS.
The new platform features an industry-first self-learning Web Application Firewall, a machine-learning real-time threat-intelligence engine, and advanced DDoS Layer 7 mitigation techniques, expected to be generally available through the intuitive ZENEDGE Control Center by the end of Q2, 2015.
With over 30 POPs and strategically positioned mitigation and scrubbing centers around the globe, ZENEDGE stands guard at the Edge of the Network, keeping web sites, networks and domain name servers safe from vulnerabilities and Layer 3, 4 and 7 DDoS attacks. ZENEDGE cybersecurity experts work with customers to improve the security and responsiveness of an organization's cybersecurity postures while constantly monitoring the effectiveness of its defenses, now leveraging the platform's new capabilities, including:
Self-learning Web Application Firewall: Rather than rely on the traditional model of setting rules after a vulnerability becomes known, ZENEDGE uses advanced machine-learning techniques to create an always current application baseline which determines what requests are valid and deals with all other requests as vulnerabilities. This new capability significantly improves the platform's ability to recognize zero-day attacks, Advanced Persistent Threats (ATP's) and eliminates the initial risk period until an attack becomes a known vulnerability.
Real-time Threat Intelligence Postures: Direct access to multiple threat intelligence feeds through the ZENEDGE Control Center allows for entire sets to be run in block or alert mode, and the underlying big data analysis is leveraged to adapt network postures, whitelist and blacklists in real time, significantly improving the effectiveness of the cybersecurity platform.
Advanced DDoS Layer 7 Protection: With the introduction of new advanced behavioral detection strategies, ZENEDGE detects normal application usage and utilizes a set of escalating challenges to stop malicious bots.
"When it comes to cybersecurity, Tenzing really wanted to partner with a vendor that has the best technology implementation, a strong vision for the future and unparalleled service," said Alex Knight, Manager, Solutions and Products at Tenzing. "We found all of these qualities with ZENEDGE.  Their commitment to our partnership and our customers' success is unparalleled."
"ZENEDGE is at the forefront of Cloud-based cybersecurity as we evolve our multi-tenant platform to become more intelligent and responsive to threats, dynamically adapting the network security posture based on type and size of attacks, in real time", said Yuri Frayman, CEO at ZENEDGE. "We are excited to be providing new, industry-first capabilities to our customers, ensuring their web applications, networks and domain name servers continue to operate and serve legitimate traffic."
ZENEDGE was founded in 2014 and has enjoyed great customer acceptance with over 1,000 web properties protected by its Cloud-based cybersecurity managed service, representing organizations in government, ecommerce, gaming and entertainment, financial services and hospitality industries.
About ZENEDGE
Headquartered in Los Angeles, California, ZENEDGE is redefining Web Application, network and DNS security against known, zero-day and ATP cyberthreats. It's Cloud-based cybersecurity managed service provides organizations a shield that delivers security without compromising performance, requiring no changes to a customer's existing hardware infrastructure. The company announced a $3.5 million funding round in October 2014.