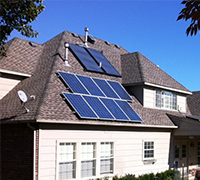 Useful tips that homeowners can always rely on when trying to save energy during the winter
(PRWEB) April 22, 2015
SPB is a leading solar company that has all the experience needed to advise homeowners with expert tips on how to save for the colder months in the Winter of 2015. Energy bills and utilities capture the pocketbooks of homeowners month in and month out, topping out during summer and winter months with higher energy outputs. The more energy that is used also contributes to carbon emissions which are harmful for the environment. Experts like Larz Herold from SPB help advise homeowners on financial and environmental tips to save energy. The latest tips were released to keep the energy output in the colder months of 2015 under control.
"Homeowners are unaware of how much of an impact they can have on the environment and their own savings with the proper techniques. SPB presents these tips in order to show homeowners that they already have control over their energy output," explains Larz. Larz continues to explain how important he thinks the tips are for homeowners in 2015, "These are such useful tips that homeowners can always rely on when trying to save energy during the winter months to prevent their utility bills from skyrocketing."
The tip sheet includes five tips that are suggestions to lower utility bills and put money back into the pockets of thousands of Americans while lowering harmful carbon emissions and preserving the environment. SPB tip sheet is as follows below:
1. Insulate. First and foremost if you do not live in an insulated home, consider investing in insulation to keep heating costs down every year. Just with the insulation keeping in the heat where needed, homeowners will see a remarkable difference in energy emission and costs. Weather stripping window and door seals prevents the escaping of heat and is considered insulating as well.
2. Adding water to the air with moisture from a humidifier will add warm air to any room because it holds heat more efficiently than dry air.
3. Natural heat from the sun. Keep light curtains that will permeate light and essentially heat from the sun. You can also open curtains completely during the winter days to let the South side sun from outside any home shine through to reduce the need of heating.
4. Similar to the previous tip, harnessing the sunlight from the South Side of any home can be hugely beneficial. By placing solar panels on the South Side of a home, clean energy is produced with zero carbon emissions that will save monthly bills. Whether you lease or buy the panels you will be saving monthly on energy for years to come.
5. Dressing up. Dress up and keep a warm blanket by the couch to keep heating costs down. Often wrapping up in a blanket will eliminate the need to turn on the heater just for a degree or two and will add up over time.
More tips can be found or discussed when scheduling a free consultation with a representative from Larz's company website at http://www.solarpanelsbenefits.com