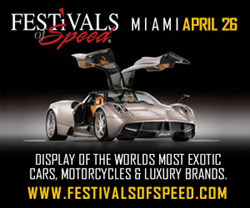 "With the proximity to our Miami home [Miami Seaplane Base -Watson Island], we are glad to be a part of this luxury lifestyle event" Rob Ceravolo - CEO Tropic Ocean Airways
Fort Lauderdale, FL (PRWEB) April 21, 2015
Tropic Ocean Airways to offer Seaplane Experience flights during Festivals of Speed event in Miami this Sunday. The flights will depart from Miami Seaplane Base, on Watson Island just across the bay from the main event. Guests will enjoy an on-water take off as they soar over Miami Beach, the city skyline and clear blue shores before landing in the channel of Biscayne Bay again. Tropic Ocean Airways will operate their new Cessna Grand Caravan EX Amphibian aircraft, which features a luxury interior with leather seats and individually controlled air conditioning.
'Festivals of Speed' holds luxury brand events in four cities throughout the state of Florida. The event features displays of exotic cars, motorcycles, yachts, and accessories. Attendees will enjoy cafes, music, spirits tastings, cigar lounge, and more.
"With the proximity to our Miami home (Miami Seaplane Base on Watson Island) we [Tropic Ocean Airways] are glad to be a part of this luxury lifestyle event held at Museum Park, Downtown Miami Waterfront" said Tropic Ocean Airways CEO Rob Ceravolo.
Tropic Ocean Airways is expanding their operations to further strengthen their position as a leading airline in South Florida and the Bahamas providing clients with a premium travel experience. The airline has experienced rapid growth in the first few years of operation, to the point where today they are flying private charters, scheduled destination flights, cargo, medical comfort evacuations and direct to yacht provisioning services.
Notes to Editors:
For event information please visit http://www.festivalsofspeed.com
To pre-book a Seaplane Experience with Tropic Ocean Airways for only $149 per person during the Festivals of Speed event please email reservations(at)flytropic(dot)com
About Tropic Ocean Airways:
Founded in 2009 by US Navy TOPGUN Graduate Rob Ceravolo, Tropic Ocean Airways LLC is an FAA-certified air carrier specializing in private terminal service throughout Florida and the Caribbean. Tropic Ocean Airways fleet of late-model Cessna Caravan Amphibians are handled by highly experienced military aviators and seaplane instructors providing service to private travelers as well as companies and organizations within the yachting and boating industry.
For more information please visit our website at http://www.flytropic.com or our sites on Facebook and Twitter.
For further information contact: Tropic Ocean Airways mail: media(at)flytropic(dot)com