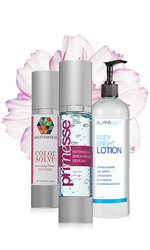 In a recent study 80% of women reported skin as the biggest issue with their appearance
Natural Skin Shop - Newark, DE (PRWEB) April 22, 2015
Everything about the celebration of Mother's Day and the advent of spring represents rebirth and renewal. To help revive winter skin and spring forward into the season of rejuvenation, online retailer Natural Skin Shop introduces three new brands to help pick out the perfect Mother's Day gift.
Natural Skin Shop is proud to add Primesse serums, Kaleidaskin primers & Alpha Light Body skin lighteners to its repertoire of cutting edge skin care products. With mom in mind and just in time to honor all that she does, Natural Skin Shop offers 30% off all Primesse, Kaleidaskin and Alpha Light products from April 21 to April 28th. Why? Because the gift of gorgeous skin is one that every mother deserves.
No Better Gift Than Anti Aging Skin Care
In a recent study nearly 80% of women reported skin appearance as their biggest issue with overall body image due to concerns such as acne, spots, aging, discoloration and redness. Understanding this concern, Natural Skin Shop employs expert aestheticians to ensure every product is effective in the fight against common imperfections.
*Published in the Journal of Women & Aging
Skin Goes Bare with Kaleidaskin
Custom primers target 6 unique skin tones using optics technology.
Kaleidaskin was created to offer a palette that is as rich as the spring landscape so that women don't have to paint their faces anymore. Give a Mother's Day gift this year that celebrates mom's skin rather than covering it in gloopy foundations. Each Kaleidaskin primer contains color match technology to balance out discoloration faced by yellow toned, blotchy, ashy, aging and normal skin types. As a bonus, each product is also infused with barrier enhancing botanicals for multi-tasking benefits.
Alpha Light Body Boasts Clinically Tested Lighteners
Advanced Alpha Arbutin & Gigawhite infuse powerful, yet gentle brightening formulas.
Alpha Light launched its Body Bright Scrub, Lotion and Wash because freckles and age spots are not limited to the face. Inspired by refreshing notes of citrus and ginger along with an effervescent fragrance, Alpha Light Body is the perfect Mother's Day gift that will give mom the confidence to bare her legs this spring. Each formula emphasizes mild lighteners and rejects more toxic bleaching options like hydroquinone to create a naturally brighter complexion. Its custom complex of advanced lighteners (known as Gigawhite) are clinically tested and proven to yield up to 28% decrease in the appearance of age spots.*
*Based on DSM Nutrition data. Results shown after 12 weeks of use.
Primesse Serums Target, Prevent & Repair
7 serums combat aging concerns from deep wrinkles, to UV damage and thinning skin.
Distressed skin sends out signals in the form of visible damage that calls out for an expert line of anti aging skin care. Primesse answers the call with an array of clinically tested serums that single out every common imperfection. Mom will love the Red Wine Rejuvenating Serum infused with antioxidants, resveratrol shown to reinvigorate healthy collagen and brighten complexions. The Intense Wrinkle Relief Serum draws invigorating proteins and green tea extract to boost the skin's own natural system of defense. Energizing coffee extract and copper peptides complement the Anti-Aging Copper Complex formula to promote optimal skin renewal. Lab tested ceramides, resveratrol, peptides and vitamins are common residents in each age defying serum.
Available now at naturalskinshop.com. View the complete 2015 catalog here.
Contact: Elena Schmidt: 954-642-7177 ext 211 or elena.schmidt(at)naturalskinshop(dot)com
About: Natural Skin Shop (NSS) is a proud online educator and retailer of quality facial chemical peels, serums, moisturizers, oils, cleansers, haircare and body boosting formulas. NSS carries brands that meet strict standards and whose formulas are free of harmful chemicals and animal testing practices. NSS offers discounts and deals wherever possible, because we understand the value of good customer service and great quality skin care. Our promise is… "True Beauty Naturally"