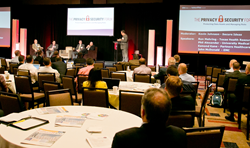 Privacy and security issues continue to be one of the most critical challenges in modern healthcare.
Chicago, Ill (PRWEB) April 21, 2015
In the ongoing expansion of its Privacy & Security Forum series, HIMSS Media today announced the second of three events for 2015. The next Privacy & Security Forum will take place June 30 - July 1, 2015 at the Radisson Blu Aqua Hotel in Chicago. The healthcare industry's most important experts on privacy and security matters will speak. The forum will focus on how leading healthcare organizations are managing risk, protecting their data, and taking action in response to the latest threats.
"Privacy and security issues continue to be one of the most critical challenges in modern healthcare," said John Whelan, Executive Vice President of HIMSS Media. "Facilities must remain vigilant against an attack or unintended breach, as an otherwise impeccable reputation can be tarnished with just one slip-up. The Privacy and Security Forum is designed to keep our community of payers and providers up to speed on the latest developments in this rapidly evolving sector. "
The agenda is currently under development. Speakers confirmed to date include John Houston, Vice President, Privacy and Information Security & Associate Counsel, UPMC; Michael Makstman, Senior Director, Technology Risk Strategy and Governance, Kaiser Permanente; Paula Nixa, Information Security Analyst, Mayo Clinic; Alessandra Swanson, SEOS/Team Leader, U.S. Department of Health and Human Services Office for Civil Rights; Karl J. West, Chief Information Security Officer/AVP of Information Services, Intermountain Healthcare and Barry Caplin, Chief Information Security Officer, Fairview Health Services.
For topic details and speaker updates please visit chicago.healthprivacyforum.com.
If you cover the healthcare industry or the technology industry, the forum will give you access to the leading experts in the field. Press & media passes are available to qualified individuals but space is limited. Contact Peggy Diab to receive your pass and to set up interviews with speakers or HIMSS Media representatives.
About HIMSS Media
HIMSS Media produces and distributes essential information to help advance better health through information technology (IT). Over 500,000 leading influencers, medical professionals, policy makers and technology buyers around the world rely on our media, events, data and training materials to evaluate and implement effective improvements in patient care. With global scale and local expertise, HIMSS Media offers innovative and measurable solutions for health and healthcare technology marketers.