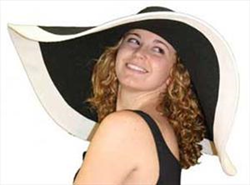 "These hats bring drama to an outfit and can add an air of sophistication."
San Diego, CA (PRWEB) May 05, 2015
"We currently have larger size casual sun hats that work well for men and women," states Marta Phillips, owner of SunGrubbies.com. "We felt it was time to address the issue that many women have in trying to find a fashionable sun hat in an extra large size that they can wear to the derby or a dressy outdoor event."
Fashionable derby sun hats such as the Rebecca, Chloe, Stevie Fedora and the Crushable Ribbon Braid 7 inch brim are now available in an extra large size, fitting heads that measure up to 23 ½ inches.
These hats bring drama to an outfit and can add an air of sophistication. Most importantly, they protect the skin from its number one enemy, the sun.
May is skin cancer awareness month which makes it important to remember that ultraviolet (UV) sun rays are present year round and that sun protection is a necessity in any season. Over one million people are diagnosed with skin cancer each year and more than 90% of skin cancers are the result of excessive sun exposure making skin cancer the number one type of cancer for both men and women.
With brims available up to 10 inches, these sun hats block 98% of UV sun rays and their extra large brims work well to shade the face, neck and ears.
SunGrubbies.com has products that will keep the sun's rays at bay. Choose from a large selection of men and women's sun hats as well as sun hats for babies and infants. Chemical free sunscreens, sun umbrellas, and hard to find sun protective items such as full face protection, lightweight sun gloves and sun sleeves can also be found of the SunGrubbies.com website, http://www.sungrubbies.com.
About SunGrubbies.com
SunGrubbies.com is a sun protection company that has been in business in the San Diego area since 1997. Started by Marta Phillips, an avid beach volleyball player, Marta found staying sun safe was neither comfortable nor attractive. Her solution was to start a company that would keep people safe under the sun by offering stylish, comfortable sun protective clothing and accessories of the highest quality and reliability. For more information visit http://www.sungrubbies.com, to view their selection of sun protective products as well as sun tips, links and sun safety information. Their toll free phone number is 888-970-1600.
SunGrubbies.com products have been laboratory tested for their sun protective ability and every purchase is 100% guaranteed. Their San Diego hat shop is open 10:00 am to 2:00 pm Monday through Friday.