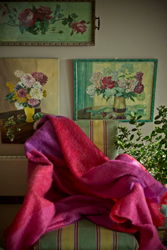 Every day is really Mother's Day, so this is a chance to give something that can be enjoyed all year! -Avoca US Director, Gina Dubbe
Glenwood, Maryland (PRWEB) April 22, 2015
This Mother's Day, fill mom's heart with joy by giving her a gorgeous, handwoven Avoca throw or scarf. Since 1723 Avoca products have been created using natural dyes and natural fibers with 100% pure wool, mohair, cotton and linen to keep customers looking smart, staying comfy and expressing their individuality.
For almost 300 years, Avoca has been weaving at the family-owned mill in County Wicklow, Ireland and selling their beautiful collections around the world. Now, Avoca's signature products are available in America at fine retailers. With a whimsical and vibrant style of integrating pattern, texture and rich color with high quality fibers, Avoca scarves, coats, throws and totes bring a modern heritage to life.
When you share Avoca with a special person, you are also sharing the company's mission to create joy and have fun. Wearing an Avoca scarf brings sunshine on a dull day or wrapping up in an Avoca throw surrounds a person with the warmth of a woven hug. Avoca creates uniquely made artisan treasures that weave the rainbow's many colors to evoke happiness and bring originality to each item.
Avoca collections are now available to all. These items include handmade woven goods for fashion, home, bridal and baby. American retail businesses have an unprecedented opportunity to be a part of Avoca's inaugural domestic offering. Interested retailers are encouraged to contact the Avoca United States sales office via email at USSales(at)avoca(dot)ie or phone 1.844.44-AVOCA (28622) to learn more about available collections and pricing.