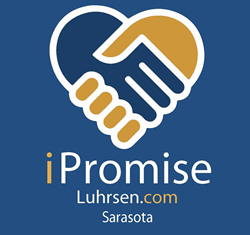 Sarasota, Flordia (PRWEB) April 21, 2015
Luhrsen Law Group wrapped its spring 2015 iPromise no text and drive pledge campaign by announcing the winners of its high school pledge competition. The firm is committed to educating all drivers, but especially our newest and most vulnerable ones-- teens, about the dangers of texting and driving. This campaign sought to engage high schools in the effort and those with the most teens participating win unrestricted grant monies from Luhrsen Law Group. The winning high schools are Cardinal Mooney High School ($1500), Lakewood Ranch High School ($1000) and Braden River High School ($500).
The genesis of its iPromise campaign was the increasing incidence of distracted driving as the cause of crashes and accidents the injury firm was seeing and its desire to try and stem the tide. For Luhrsen Law Group and its CEO, attorney Jeffrey Luhrsen "it's about reducing the number of crashes that really are entirely preventable . . . by the simple act of putting your phone away whenever you are behind the wheel." Luhrsen Law Group's ultimate goal is to help build a safer community and a belief that that starts with educating.
Like its earlier iPromise campaigns, this one saw hundreds of teens drivers pledging (and many from a wider geographic area). Stopping teens from driving distracted should also help reduce other risky behavior among teen drivers. Research shows that teens who text and drive are also more likely to not buckle up, drive after drinking, and not speak up as a passenger in a car where the driver is driving distracted. Ultimately, reducing the incidence of risky driving behavior among teens and all drivers benefits everyone on the roads…a real win-win.
More information about Luhrsen Law Group and its iPromise pledge campaign, can be found by going to http://www.Luhrsen.com and clicking on iPromise. Luhrsen Law Group, based in Sarasota, Florida, is proud to be a family-owned firm that serves Florida families by helping them recover after serious injuries and from legal wrongs, and that protects Floridians through information designed to avoid preventable harm. Luhrsen Law Group, Serving to Protect. For more Information, contact Managing Partner, Julie Luhrsen, at 941-957-4878, ext 222, or jsl(at)luhrsen.com.