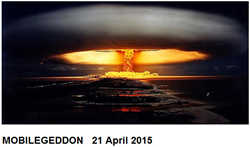 Introducing Mobilizer Pro - The Mobilegeddon Quick Check-and-Fix
(PRWEB) April 21, 2015
SurfStats Software, a software company specializing in website traffic analysis , has announced the release of Mobilizer Pro, a new Windows Software Application that helps to convert websites to become mobile-friendly.
This comes as a response to Google's blog post published on February 26, 2015: " Starting April 21, we will be expanding our use of mobile-friendliness as a ranking signal. This change will affect mobile searches in all languages worldwide and will have a significant impact in our search results." Mobile-friendly websites will rewarded, starting 21 April, 2015.
This change in Google's search algorithm has been dubbed "Mobilegeddon".
"Mobilegeddon will likely affect millions of sites and may bankrupt many websites that are not geared for traffic from mobile devices." said Johan Calitz, owner of Surfstats Software. "We have found that many websites are still not mobile-friendly, but if you missed out on the deadline, don't panic. Make your website mobile-friendly and then submit it to Google again."
Mobilizer Pro can help make websites mobile-friendly quickly. It can automatically crawl, download and check a complete website within minutes. It will generate a screen report showing which web pages are not mobile-friendly and can suggest which errors have to be corrected. Mobilizer Pro can then be used to help make the necessary changes to the web pages on a client's desktop and can be re-tested before uploading. Once a client is satisfied with the results, the changed pages can be uploaded to the web host and re-submitted to Google.
There are two Mobilizer versions:
Mobilizer Free: This version will check 30 pages of a website and will show whether the pages are mobile-friendly or not. It will also suggest which corrections need to be made.
Mobilizer Pro: This version will check all pages of a website and will show whether the pages are mobile-friendly or not. It will also suggest what needs to be corrected and allows editing of content.
For more information about Mobilizer and Mobilegeddon, see the
Mobilgeddon Blog
About Surfstats Software :
SurfStats Software develops website statistics analysis applications for Hosts, ISP's, businesses and individuals since 1998. Well-known titles from the company include the SurfStatsLive Reporting Server and SurfStats Website Traffic analyser.
For more information check the Surfstats Software Website