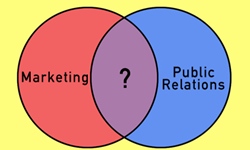 "PR is no longer just about landing that big editorial but also how you will take that story and build it through many channels." - Allison Robins, Zumba
New York, NY (PRWEB) April 22, 2015
Designed specifically for communications and marketing professionals, PR News will host the upcoming webinar "Breaking Down the Silos Between Marketing and PR" on April 23, 2015 from 1:30 to 3 p.m. ET. At this webinar, a panel of communications experts will discuss how to align the goals of the Marketing and PR functions within a company, and how to improve the communications between the two arms. Although marketing and public relations meet different needs, in today's interconnected world it is becoming ever-important for the two groups to work together.
"In today's fast moving industry, you need to think big picture and see projects through multiple lenses," said webinar speaker Allison Robins, director of PR at Zumba Fitness. "PR is no longer just about landing that big editorial but also how you will take that story and build it through many channels. We are in a digital boom and content is at its center."
More Details: http://www.prnewsonline.com/webinars/04-23-2015
Speakers at this April 23 webinar include Havilah R. Ross, marketing communications manager at Six Flags America, Allison Robins, director of public relations at Zumba Fitness and Grace Leong, CEO and partner at Hunter Public Relations. To register for this webinar, visit: http://www.prnewsonline.com/webinars/04-23-2015.
Attendees will leave this 90-minute webinar with the know-how to:

Understand the discrete functions of public relations and marketing
Learn what a CMO thinks about on a daily basis
Create an environment where public relations and marketing practitioners can work together
Communicate about the new ways the two functions overlap today
Solve problems when PR and marketing disagree
Start a dialog that is complimentary, not confrontational
Specify who is responsible for the different parts of communications strategies
Define who owns what on social media
Keep the ultimate goal of satisfying customers top of mind
Marketing and PR each play substantive roles in accomplishing a company's goals and objectives. These major external functions share common ground with regard to publicity and consumer and media relations, but they remain distinct. In today's world, however, it is becoming necessary for the two areas to work together within an organization. The goal of the upcoming PR News webinar is to help PR and Marketing teams alike understand the distinct goals of each practice and walk away with clear and objective strategies on how to better communicate and work together so that both groups (and the organization as a whole) win.
For more information or to register online, visit http://www.prnewsonline.com/webinars/04-23-2015.
The registration rate is per office location and come with a full year of online access to the on-demand version. There are also CDs available for purchase. For registration questions regarding this webinar, contact Rachel Scharmann at rscharmann(at)accessintel(dot)com.