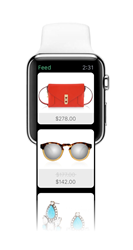 New York, New York (PRWEB) April 24, 2015
Today, Keep Shopping, the top rated iOS shopping app, launches an Apple Watch App, allowing for the most innovative way to bring the best trending products from everywhere on the Internet to your finger tips.
The Keep Shopping Apple Watch app delivers an easy and delightful way to browse what's popular and buy or save favorite products as easily as telling time. Now, stylish shoppers can stay on top of what's trending while waiting in line for coffee or out for a walk.
"Keep's mission is to use the power of the Internet and amazing new technology to deliver a shopping experience never before possible. Whether on the desktop, on tablet, in your pocket or now on your wrist, we're excited to enable our customers to get the best of the best from everywhere in the easiest and most delightful way possible," said Scott Kurnit, Keep's founder and CEO.
"Keep members open their Keep app an outstanding average of 14 times per month, demonstrating that they see Keep as not only shopping, but also entertainment," says MaryAnn Bekkedahl, Keep's President and Co-Founder. We're excited to be here on day one, when new Apple Watch owners are first exploring what they can do with this amazing new device."
Bekkedahl continues, "Staying on top of what's trending, and exploring products throughout the day is already their style. We're excited to give them additional opportunities to see what's trending in those brief moments where pulling out a phone would be too much effort, or too obvious. Is she checking the time or buying new shoes? No one will ever know."
The Keep Shopping Apple Watch is available today on the Apple App store.
###
Keep's mission is to unlock the potential of mobile commerce. It achieves this by providing the only web-wide universal shopping cart and a unique commerce philosophy that puts consumers first at every turn.
Keep is headquartered on Park Avenue South in NYC. Successful Internet entrepreneur Scott Kurnit, who also founded About.com, is Keep's Founder and CEO.
Stay tuned for new features by keeping up with the Keep blog http://www.keep.com/read. You can also see what we're up to by signing up at http://www.keep.com, and by following us on Instagram and Twitter @keep, Pinterest at Keepdotcom and Facebook at keepcom.
For additional information on Keep, please contact Dria Murphy Dria(at)keep(dot)com, (415) 314-4649