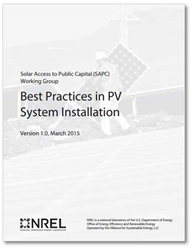 This guide helps ensure quality installation of solar PV systems
Ashburn, VA (PRWEB) April 21, 2015
The Institute for Building Technology and Safety (IBTS) announces the release of the Solar Access to Public Capital (SAPC) Best Practices in PV Installation Guide to improve solar asset transparency for investors and rating agencies. The Guide provides the information required to ensure quality installation of a solar PV system and outlines quality protocols to facilitate reduced transaction costs in the solar asset securitization process. Additionally, the Guide facilitates transparency and reassurance for all parties with interest in installed PV systems.
"IBTS has been a leading provider of solar PV quality assurance for years and wanted to help drive this quality initiative," said Jeffrey Domanski, Senior Manager, Energy and Sustainability at IBTS. "Our solar team led the working group and we are excited for the first release of a best practices guide in solar PV installation. This is an important step in bringing greater quality and consistency to the field."
The SAPC Initiative brought together leading experts in the solar industry in a nearly two-year effort. This important public-private collaboration directly stemmed from the long-term efforts of IBTS, working with leading industry stakeholders, to create an industry standard quality management system.
With the release of the SAPC Best Practices in PV Installation Guide, the Initiative will continue to build consensus and awareness of these practices, and begin to develop a system to implement these practices as a standard across the solar industry. This effort will move forward in partnership with NREL with the support of the Department of Energy's SunShot Initiative, as well as our many industry partners.
Visit ibts.org to download the "SAPC Best Practices in PV Installation Guide."