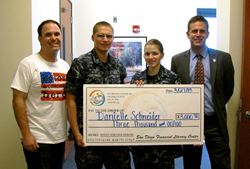 I am extremely grateful for the San Diego Financial Literacy Center and all of the help that their wonderful staff has provided to help my husband and I get our financial situation back on track
San Diego, California (PRWEB) April 22, 2015
On March 27, 2015, DebtWave Credit Counseling, Inc.'s d.b.a, San Diego Financial Literacy Center (SDFLC) (http://www.sdflc.org), hosted their quarterly Education Luncheon at National University in San Diego, CA.
Kevin Garrett, Southern California Business Unit President at CBIZ, presented to over forty attendees on the impact of Taxes and the Affordable Care Act. Immediately following, a San Diego military member, Danielle Schneider, was awarded a $3,000 boost to help with her family's financial hardship. Schneider, an E-2 in the United States Navy, needed assistance in managing her debt, moving to off-base housing with her husband, also active duty Navy, as well as preparing for the arrival of their first child. You can watch a video of the event here.
"Working with our military community is very important to our organization," said Brad Pagano, Co-Founder and Managing Director of the SDFLC. "Providing the complimentary financial education and subsequent quarterly award allows us to effectuate real life change for our constituents." Ms. Schneider couldn't agree more, "The Boost For Our Heroes program is important because of the financial help with budgeting and savings that the team is able to supply. They teach life skills that you don't really learn coming straight out of high school and joining the military. I am extremely grateful for the San Diego Financial Literacy Center and all of the help that their wonderful staff has provided to help my husband and I get our financial situation back on track. They have taught us skills that we can continue to use for the rest of our lives. "
Each quarter, the SDFLC awards a military member with $3,000 as a part the Boost For Our Heroes program, a financial assistance and education program geared toward active, transitioning, and veteran military members. If you are an active, transitioning, or veteran military member facing any type of financial hardship, please download and fill out the application, "Boost For Our Heroes Application Form and Rules 2nd Quarter 2015." All details for eligibility are included in the application.
For more information about all community outreach programs or to access the application, please visit: http://www.debtwave.com/outreach.
About DebtWave Credit Counseling, Inc.
DebtWave Credit Counseling, Inc. is a 501(c)(3), non-profit headquartered in San Diego, CA. Established in 2001 as a nationwide, credit counseling agency with the mission of educating the public on the proper use of credit through budget management, to offer sound counseling, and to assist clients in reducing and eliminating debt, it is DebtWave's passion to provide the best education and most appropriate program(s) to manage debt. Community outreach has been a cornerstone of our organization since its inception and we are happy to provide complimentary financial education while supporting all facets of our community. For more information, please visit http://www.debtwave.com and http://www.sdflc.org. You can also contact the company at info(at)debtwave(dot)com and info(at)sdflc(dot)org or call (888) 686-4040 and (858) 810-7007.