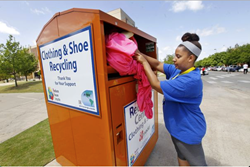 This semester 17 campuses have joined the Move2Recycle campaign, which triples participation over 2014 and is expected to set a new record for textiles collected.
(PRWEB) April 20, 2015
As college students across the nation prepare for finals and commencement services, these green-minded millennials are making move out season more sustainable than ever!
Now in its fourth year, the Move2Recycle campaign kicks off this month sponsored by American Textile Recycling Service (ATRS). Universities, faculty and students alike pledge to make dorm room move outs a cleaner, greener experience in their communities by recycling textiles instead of trashing them.
This semester 17 campuses have joined the campaign, which triples participation over 2014. Returning campuses include The University of Central Oklahoma, Tennessee State University in Nashville and The University of Southern California in Los Angeles. New pledges like Texas Christian University in Dallas and The Colorado School of Mines in Denver will report pounds collected for the first time. For a full list of participating university campuses please visit the Move2Recycle Page.
Each school will provide easy, convenient ATRS Recyclers on campus or at designated student residences to collect unwanted clothing, shoes, backpacks, sheets, towels and dorm room textiles of all kinds. Every item will be reused, repurposed or recycled and diverted from area landfill. A local non-profit organization in each city will benefit from each pound collected. Based on the population size of each campus, this will have a positive impact on each school's philanthropic contribution and improve its waste diversion rate in the community.
The average college student produces 640 pounds of waste each year during their university life with 8% or more coming from textiles. The Move2Recycle campaign helped divert over 30,000lbs of cloth from 6 participating campuses in 2014. Strong support for the campaign this year means more universities will meet sustainability objectives, take philanthropic action and cultivate a new generation of environmental stewards in the process. It's a win win win!
American Textile Recycling Service (ATRS) is the nation's fastest growing textile recycler. Its socially responsible business model provides free textile recycling solutions for the public, job stimulation worldwide and much-needed funding for worthy local charities. Easy, convenient ATRS Recyclers are available throughout Southern California, Oklahoma, Tennessee, Dallas, Atlanta, Orlando, Phoenix, Scottsdale, Tempe and Tucson AZ, Houston, San Antonio, Austin, Galveston and Beaumont TX, Michigan and Colorado. For press inquires contact pr(at) atrsonline(dot)com.