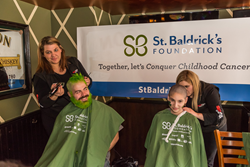 It's great to see the hard work and enthusiasm from staff and customers pay off
Atlanta, Georgia (PRWEB) April 20, 2015
In a bold statement of solidarity with kids with cancer, nearly 1,000 volunteers shaved their heads at Fado Irish Pub events across the country for St. Baldrick's Foundation, a volunteer-driven and donor-centered charity dedicated to raising money for children's cancer research. The events, held at nine different locations, raised more than $1 million as part of a global effort to Conquer Childhood Cancers.
Why all the shaved heads? Worldwide a child is diagnosed with cancer every three minutes, and one in five children diagnosed in the U.S. will not survive. With only 4 percent of all federal cancer research funding dedicated to pediatric cancer research, St. Baldrick's Foundation volunteers, supporters and donors are needed to continue the battle against this devastating disease.
Since 2002, Fado Irish Pubs have played host to "brave the shave" events in the majority of their pubs nationwide. Collectively, the pubs have raised more than $7.9 million for childhood cancer research over that period, and nearly 7,500 heads have been shaved. For the second year in a row, Fado Irish Pubs is celebrating a significant milestone by raising more than $1 million in a single year across nine different participating locations. The chain holds a record within the Foundation among participating restaurants and pub chains, having raised the most of any other chain involved.
"I am particularly sensitive to children's charities and to cancer charities, so St Baldrick's is the perfect combination for me," says Kieran McGill, CEO and owner of Fadó Pubs Inc. "It is great to see the hard work and enthusiasm from our staff and our customers pay off and have this kind of impact in our local communities."
With its Irish roots, Fado Irish Pubs never shy away from a challenge and are calling on other vendors in the food industry to serve up some healthy competition, keeping in mind that everyone wins at the end of the day. The events can take place any time throughout the year and anyone can host one by visiting http://www.stbaldricks.org/start-an-event.
About Fadó Irish Pub
Fadó (pronounced fuh-doe) Irish Pub was the first Irish pub to be designed and constructed in Ireland and shipped and installed in Atlanta in 1996 and currently operates 15 locations across the country. Fadó is distinguished by its genuine Irish hospitality, quality of its pints and craic (pronounced 'crack', a uniquely Irish form of fun). Fadó has been voted 'Best Of' by a number of local and national publications, is the European sports headquarters and an official US Soccer Bar.
About St. Baldrick's Foundation
The St. Baldrick's Foundation is a volunteer-driven charity committed to funding the most promising research to find cures for childhood cancers and give survivors long and healthy lives. St. Baldrick's coordinates its signature head-shaving events worldwide where participants collect pledges to shave their heads in solidarity with kids with cancer, raising money to fund research. Since 2005, St. Baldrick's has awarded more than $154 million to support lifesaving research, making the Foundation the largest private funder of childhood cancer research grants. St. Baldrick's funds are granted to some of the most brilliant childhood cancer research experts in the world and to younger professionals who will be the experts of tomorrow. Funds awarded also enable hundreds of local institutions to participate in national pediatric cancer clinical trials, and the new International Scholar grants train researchers to work in developing countries. For more information about the St. Baldrick's Foundation please call 1.888.899.BALD or visit http://www.StBaldricks.org.
# # #