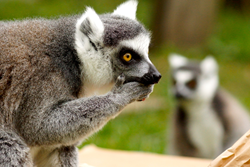 Visiting such a facility that supports the local villagers and shows them the value of their unique ecosystems as well as having researchers and students from around the globe combine their forces to save the forest and animals is very inspirational
Oakland, CA (PRWEB) April 20, 2015
On Thursday, April 30, 2015, from 6:30pm – 9:00pm, Oakland Zoo welcomes the public to attend a talk about the most endangered animal on the planet - lemurs. These animals are extremely rare and exist only on the island of Madagascar.
Zoological Manager, Margaret Rousser and Lead Keeper, Elizabeth Abram will recount their eco-trip to Madagascar where they spent two weeks in the field working with Dr. Wright at Centre ValBio (CVB), a state-of-the-art lemur research station. "CVB is a place of hope," said Elizabeth Abram, Lead Keeper at Oakland Zoo. "Visiting such a facility that supports the local villagers and shows them the value of their unique ecosystems as well as having researchers and students from Madagascar and around the globe combine their forces to save the forest and animals is very inspirational. The approach and successes of CVB is evident both in Ranomafana National Park as well as the surrounding villages. It was truly an honor and privilege to be a part of that." The evening will highlight the work of Centre ValBio's community-oriented conservation programs and showcase how the center is working with local villages to develop ecologically sustainable programs which reduce the need for logging while protecting wildlife and the forest environment. The center's ultimate goal is to protect Madagascar's biologically diverse ecosystems.
The Conservation Speaker Series will take place in Oakland Zoo's Zimmer Auditorium, located near the lower entrance of the Zoo. Parking is free and the admission price for the evening's speaker presentations is $12.00 - $20.00 per person (sliding scale). All proceeds from the evening will be donated to Centre ValBio. Light refreshments will be served. For additional information about Oakland Zoo's Conservation Speaker Series, please contact Amy Gotliffe, Conservation Director, at amy(at)oaklandzoo(dot)org.
ABOUT LEMURS:
Lemurs are only found in Madagascar, and have often been characterized as "Madagascar's flagship mammal species." Madagascar is the world's fourth largest island and ninety percent of its animals are found nowhere else on the planet. As of 2012, there were officially 103 species and subspecies of lemur found on this island. They are almost all classified as rare, vulnerable, or endangered. Ninety-four percent of lemur species are threatened with extinction. Lemurs are threatened by a host of environmental problems, including deforestation, hunting for bushmeat, along with live capture for the exotic pet trade.
ABOUT CENTRE VALBIO:
Centre ValBio (CVB) was created by primatologist Professor Patricia Wright in 2003 to help both indigenous people and the international community better understand the value of conservation in Madagascar and around the world. CVB is located at the edge of Ranomafana National Park (RNP), a place of stunning beauty and immense natural diversity. RNP is located in the Fianarantsoa Province of southeastern Madagascar. CVB's mission has three main objectives: To promote world-class research in one of the world's most biologically diverse and unique ecosystems. To encourage environmental conservation by developing ecologically sustainable economic development programs with local villages. To provide the local villagers with the knowledge and tools to improve their quality of life through projects focused on sanitation, diet, and education, and ultimately reduced poverty in the area. For more information about CVB, go to: http://www.stonybrook.edu/commcms/centre-valbio/index.html
ABOUT OAKLAND ZOO:
The Bay Area's award-winning Oakland Zoo is home to more than 660 native and exotic animals. The Zoo offers many educational programs and kid's activities perfect for science field trips, family day trips and exciting birthday parties. Oakland Zoo is dedicated to wildlife conservation onsite and worldwide. Nestled in the Oakland Hills, in 500-acre Knowland Park, the Zoo is located at 9777 Golf Links Road, off Highway 580. The East Bay Zoological Society (Oakland Zoo) is a nonprofit 501(c)3 organization supported in part by members, contributions, the City of Oakland and the East Bay Regional Parks. For more information please visit our website at http://www.oaklandzoo.org.
###
Contact: Nicky Mora, Senior Manager, Marketing/PR
(510) 632-9525 ext. 130
nmora(at)oaklandzoo(dot)org
Contact: Amy Gotliffe, Director, Conservation
(510) 632-9525 ext. 122
amy(at)oaklandzoo(dot)org