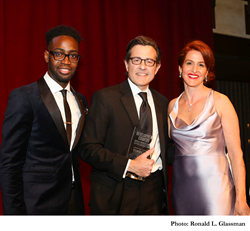 We are proud to be honored by the All Stars Project, but even prouder of all the young people who have stepped up to embrace the life-changing opportunities that the organization provides.
New York, N.Y. (PRWEB) April 22, 2015
The All Stars Project (ASP), America's leader in afterschool development, honored DIRECTV, one of the world's leading providers of satellite television entertainment services, for its leadership support of innovative, inner-city youth development programs at the All Stars Project national gala at Lincoln Center on Monday, April 13th.
The annual event, this year themed "Development Country: America's Business Support America's Youth," raised $2 million in private funding for ASP programs across the country. DIRECTV Executive Vice President, Chief Revenue and Marketing Officer Paul Guyardo accepted the recognition on behalf of DIRECTV.
Mr. Guyardo launched the partnership with ASP in 2008. He and his team have hosted workshops for youth participants in ASP's Development School for Youth (DSY) leadership training program at DIRECTV's Rockefeller Plaza offices, introducing dozens of youths to the world of marketing and media. DIRECTV has also been an annual sponsor of summer interns for DSY students, giving 15 young people a life-changing professional and development experience to date. 2013 intern Tatiana Gregoire landed a full-time job with DIRECTV in the Revenue and Marketing department and was the recipient of the coveted 2014 "Rookie of the Year Award" for remarkable ingenuity, teamwork and dedication.
"We are proud to be honored by the All Stars Project, but even prouder of all the young people who have stepped up to embrace the life-changing opportunities that the organization provides," said DIRECTV's Mr. Guyardo.
"Being an All Star alum has been the best thing that has happened to me," said ASP program graduate and current DIRECTV employee Addofio Addo. "I realized quickly that the real work begins when you apply lessons learned from the All Stars to become better – both personally and professionally. Working at DIRECTV has literally been a game changer."
DIRECTV provides both direct financial support and world class in-kind marketing exposure, which have helped propel All Stars brand recognition to new heights. DIRECTV is ASP's leading in-kind corporate donor. In 2013, DIRECTV created a print poster campaign and broadcast-quality documentary that has been seen by over 10,000 people across the world. DIRECTV involved DSY interns as part of that process.
This year, DIRECTV is investing creative talent in redesigning the All Stars Project website so that millions of people around the globe can seamlessly and easily learn about and join the All Stars community. Mr. Guyardo made this exciting announcement at the April 13th gala and unveiled its design to the 430 business and philanthropic leaders in the audience.
"Paul and his team have been extraordinarily creative in developing a partnership that helps inner-city young people become connected to and active participants in marketing, branding, digital media," said ASP President & CEO Gabrielle Kurlander. "They are helping All Stars tell our unique story of program innovation and involvement philanthropy at the highest level, and we are very proud to be highlighting this commitment to community and youth development at our gala and throughout the year."
About the All Stars Project (ASP): ASP is a 34-year-old national nonprofit that transforms the lives of youth and poor communities through the developmental power of performance in partnership with caring adults. It sponsors a wide range of programs that includes hip-hop talent shows, training in theatre and the arts and programs that partner with the business community. ASP is 100% privately funded. For over three decades, tens of thousands of individual donors nationwide have given $90 million and millions of hours of personal time to share their lives, expertise, workplaces and even their homes with some of our nation's most disadvantaged young people. ASP is headquartered in New York City on West 42nd Street and has established programs in six cities – New York City, Newark, NJ, Chicago, Il, the San Francisco Bay Area, CA, Dallas, TX, and Bridgeport, CT.