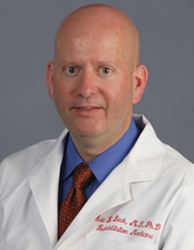 Nerve testing would be necessary in identifying or eliminating nerve damage for more effective treatment,
Huntsville, AL (PRWEB) April 24, 2015
Recent research by the CareerBuilder and Economic Modeling Specialists International (EMSI) revealed that Physical therapists and their assistants are among the top 10 health care occupations expected to experience the greatest growth by the year 2023.
Physical therapists are also listed among the career paths with the strongest growth and greatest potential for expansion in the future.
During a recent interview, Dr. Eric beck revealed that while physical therapists can offer great relief to patients suffering from numbness in their legs and feet, they may not be able to address the root cause of the problem, particularly if it involves the nerves.
"The only way to ensure that you are getting the most appropriate treatment for muscle numbness is to be sure about the root cause," said Dr. Beck.
He explained that numbness in the legs and feet can be caused by anything from muscle strain to nerve damage.
"Unfortunately, some types of nerve damage cannot be fixed by physical therapy alone," said Dr. Beck.
"Nerve testing would be necessary in identifying or eliminating nerve damage for more effective treatment," he added.
The Huntsville medical doctor said that once nerve damage has been struck off the list of potential causes of muscle numbness, physical therapy, or even chiropractic or acupuncture treatment may offer relief to the patient.
"On the other hand, if some nerve damage is identified, a more comprehensive treatment plan would be developed for the patient to offer a permanent solution," said Dr. Beck.
He also added that nerve damage is easier and more affordable to correct in its early stages, which is why patients should be keen about getting proper diagnosis the first time around.
"When nerve damage is left untreated for an extended period of time, especially once symptoms like muscle numbness start to show, the patient is at greater risk of permanent paralysis," said Dr. Beck.
Dr. Beck offers nerve testing at his medical practice - the Valley Center for Nerve Studies and Rehabilitation.
The Huntsville medical doctor offers advanced treatment for a wide variety of muscle and nerve disorders to residents of Huntsville, Birmingham, Fort Payne, Brownsboro, Normal and the surrounding cities in Alabama.
He is also involved in various community events, and is currently running the "Nominate a Hero" contest. The contest is meant to encourage Alabama residents to acknowledge the everyday heroes among them that have had a positive impact on the lives of others.
He is currently offering a free acupuncture treatment for neck and back pain, as well as a free comprehensive neuromuscular exam. The offer is valued at $200 and coupons are available to visitors on his website.
To request a treatment coupon or get more information on Dr. Beck's medical services, visit http://www.MedicalDoctorHuntsvilleAL.com.