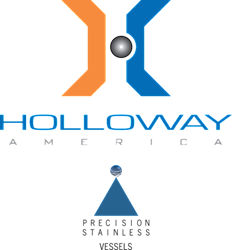 We are excited to share our passion for pressure vessel perfection with INTERPHEX guests from around the world.
Springfield, Mo. (PRWEB) April 21, 2015
A leading manufacturer of stainless steel tanks and pressure vessels, HOLLOWAY AMERICA is slated to discuss its custom fabrication services today at INTERPHEX 2015. The company will also present its reimagined website, which launched just prior to the INTERPHEX event. The expo takes place today, Wed. and Thurs. (April 21, 22 and 23) at the Javits Center in New York City, where more than 12,000 representatives of the world's largest and most innovative pharmaceutical and biotech firms will be in attendance.
About the HOLLOWAY AMERICA Exhibit
HOLLOWAY Director of Marketing Randy Colwell and his colleagues invite attendees to visit Booth 3162 to learn details about HOLLOWAY's custom-engineered stainless steel pressure vessels, tanks and components. Attendees will also have the chance to take an interactive tour of the new HOLLOWAY website. The latest iteration is the company's most powerful, most convenient website to date.
Colwell and his team worked closely with their long-time interactive design agency to ensure the site reflects the wish list clients have shared with HOLLOWAY: "After fielding a number of requests for our website, we're excited to show people just how easily they can find all they need on the new site. For example, the site now includes our extensive MTR Library and TOP Resources, and every page is designed to resize so users enjoy an optimal experience on any computer or mobile device."
The exhibit today will also feature discussions on the HOLLOWAY batch reactor vessel, which is widely used in pharmaceutical laboratories and other biotech processing labs. HOLLOWAY reactors and mixing vessels are popular in part because they're fabricated using the finest ASME pressure vessel materials available, ensuring each vessel is built to resist corrosion and provide unsurpassed performance.
About INTERPHEX 2015
HOLLOWAY is one of more than 600 leading suppliers exhibiting advanced technologies, products and value-added services at INTERPHEX this week. The annual expo draws key decision makers from the largest, most innovative biologics and pharmaceutical manufacturers, including 3M, Pfizer, Eli Lilly and GlaxoSmithKline. Attendees and exhibitors come from nearly 50 countries, including Brazil, China and India.
Representatives of prestigious academic institutions and key government agencies are also expected to attend, and the event schedule includes more than 85 technically focused education courses on a range of topics such as business strategy, regulatory matters and emerging technologies like bioprinting. "We are excited to share our passion for perfection and dedication to exceeding customer expectations with INTERPHEX guests from around the world," said Colwell.
For details about stainless steel pressure tanks and vessels for the biopharmaceutical industry, visit the HOLLOWAY AMERICA website or contact a representative at 417-863-0077 or info(at)hollowayamerica(dot)com. For information about INTERPHEX 2015, visit interphex.com.