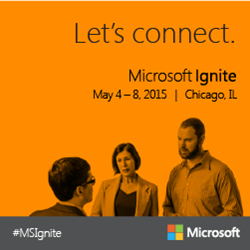 Join us as we discuss what's going on with the BIG Ignite Conference in Chicago this May! We'll talk session highlights, party & events, give a sneak-preview of the expo, and more!
Plainfield, IL (PRWEB) April 22, 2015
With Microsoft Ignite less than two weeks away, many people are wondering what they should expect at the big conference taking place from May 4-8, 2015 at McCormick Place in Chicago, IL.
VisualSP invites attendees (and those who are unable to attend) to join in a no-cost webinar on Tuesday, April 28, 2015 at 12 pm Eastern to discuss, "What to expect at Ignite." The webinar is led by Microsoft MVPs: Jennifer Mason and Asif Rehmani, along with Jack Fruh, Enterprise SharePoint Administrator. Mason and Rehmani have both been featured speakers at other Microsoft conferences and will be presenting a session together at the show on Weds, May 6th on No-Code Solutions.
The goal of the webinar is to help people make the most of their experience at Ignite with tips and suggestions from seasoned veterans.
Planned discussion points include:

Which sessions to attend (different topics, speaker highlights, etc) for specifically the no-code Power User solutions
Navigating the Ignite website and tips to make the most of the show
The floor plan and layout of the expo area - including platform focus areas and community hubs (lots going on there this year!)
Various networking events and parties planned
The online experience for those who will not make it to the conference
Where to get the video recordings of the conference afterwards
Webinar Details:
"What to Expect at Microsoft Ignite"
Tuesday, April 28, 2015 at 12 pm Eastern
Register Here
Learn More about the Microsoft Ignite Conference
About VisualSP
VisualSP (formerly SharePoint-Videos.com) focuses on empowering information workers, technical decision makers, administrators and developers in corporate environments with the SharePoint knowledge they need to be successful. The company is the creator of the VisualSP Help System, a platform that delivers in-context support to end users through a Help tab in SharePoint ribbon. VisualSP has been helping drive SharePoint adoption in organizations by exposing Help content such as: video tutorials, screenshots and reference documents to the users when they need it. In addition, hundreds of video tutorials are available on the company website, which empower all SharePoint users to build powerful solutions and use the SharePoint platform effectively. http://www.VisualSP.com
twitter: @sharepointvideo / @asifrehmani