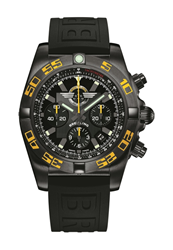 The Breitling Jet Team American Tour Chronomat 44 Blacksteel is so special because it reflects what the Breitling Jet Team is about: precision, speed and adrenaline- said Breitling USA President Thierry Prissert
Chicago, IL (PRWEB) April 22, 2015
To celebrate the historic first tour of the Breitling Jet Team in North America, Breitling is pleased to unveil the Breitling Jet Team American Tour Chronomat 44 Blacksteel timepiece. In a limited edition of 500 pieces, the new watch has a sleek blacksteel case, onyx black dial, and distinct yellow accents, which mirrors the colors of the Breitling Jet Team's fleet of L-39 C Albatros Jets. The eye-catching piece befits the world-famous Jet Team, who are known for their precision flying and breathtaking performances. The prestigious aerobatic display team is the first and largest of its kind; comprised of seven L-39 C Albatros jets that can reach speeds of up to 565 mph and 8G acceleration.
"The Breitling Jet Team American Tour Chronomat 44 Blacksteel is so special because it reflects what the Breitling Jet Team is about: precision, speed and adrenaline," said Breitling USA President Thierry Prissert. "The Chronomat is one our most popular models, and the first one that housed Breitling's in-house movement, so it was a natural fit to do a Chronomat for the Jet Team, who embody Breitling's spirit of adventure and audacity, as well as our passion for aviation."
The Breitling Jet Team American Tour Chronomat 44 Blacksteel timepiece features the Breitling Jet Team logo on the dial, while the caseback features the Breitling Jet Team American Tour logo in vibrant color with the limited edition numbering. This sleek yet sporty watch is equipped with Breitling's in-house chronometer-certified Manufacture Breitling Caliber 01 movement and features an exclusive five-year warranty. Each watch will be accompanied by a limited edition commemorative Breitling Jet Team American Tour coin, which is only available with watch purchase. The limited edition piece will be available at Razny Jewelers as well as select Air Shows that the Jet Team will perform at throughout North America on the Tour.
"The Breitling Jet Team is thrilled to be sharing our passion for flight with North American audiences," said Breitling Jet Team Leader Jacques Bothelin. "For us that means every performance must be breathtaking; it should convey precision, a mastery of flight, and style. Those same characteristics are embodied in the Breitling Jet Team American Tour Chronomat 44 Blacksteel timepiece.
The Breitling Jet Team American tour, which spans 20 airshows throughout the U.S. and Canada in 2015, kicks off at one of the country's most famous air shows, Sun n' Fun International Fly-In & Expo, beginning April 21. The team will then make their way up the East Coast, across the Midwest, and down the West Coast. Stops include New York's Beth Page Air Show at Jones Beach, The Chicago Air and Water Show, Boeing Seafair Air Show in Seattle, and the National Championship Air Races in Reno. The Breitling Jet Team's full schedule is available at: http://www.breitling-jet-team.com.
Breitling has deep rooted and privileged ties to aviation that have spanned the brand's history. Notably, Breitling equipped WWII propeller-driven fighter planes cockpits with on-board chronographs for the Royal Air Force in the 1930's. In 1952, they launched the legendary Navitimer wrist chronograph featuring a circular slide rule, which could perform all navigation-related calculation and has been continuously manufactured for over 60 years – the world's oldest and most iconic mechanical chronograph still in production. Additionally, Breitling has enjoyed longstanding collaborations with some of the world's greatest flight teams, including the U.S. Navy Blue Angles and U.S. Air Force Thunderbirds, as well as the famous Frecce Tricolori Italian elite flight team, for whom Breitling developed the original Chronomat in 1984.
ABOUT BREITLING: A specialist of technical watches, Breitling has played a crucial role in the development of the wrist chronograph and is a leader in this complication. The firm has shared all the finest moments in the conquest of the skies thanks to its sturdy, reliable and high-performance instruments. One of the world's only major watch brands to equip all its models with chronometer-certified movements, the ultimate token of precision, Breitling is also one of the rare companies to produce its own mechanical chronograph movements, entirely developed and manufactured in its own workshops. This family business is also one of the last remaining independent Swiss watch brands.
ABOUT RAZNY JEWELERS: Razny Jewelers is family owned & operated. The Razny Family represents the world's top brands and offers custom creations. For over 60 years, Razny Jewelers has defined the essence of what a fine jewelry store should be to their clientele. Razny Jewelers is dedicated to the best combination of old-world and modern values. They are one of the only jewelers in the Chicago area that fabricates custom creations truly by hand. With several bench jewelers on staff, custom jewelry remains their specialty. Their careful attention to perfection & unrivaled craftsmanship turns dreams into reality. Razny Jewelers' integrity, honesty & commitment to unparalleled personal service bring their customers back time after time.