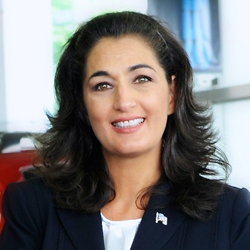 Tamara C. Darvish named 2015 W.D. Schaefer Helping People Award recipient.
Alexandria, Va. (PRWEB) April 21, 2015
WHO: Comptroller Peter Franchot State and local elected officials
WHAT: Comptroller Franchot will present the third of this year's William Donald Schaefer Helping People Awards to recipient Tamara C. Darvish, who has devoted much of her life serving those in need in Montgomery County. Mrs. Darvish, who is executive vice president of business development, marketing, and government and community affairs at Pentagon Federal Credit Union (PenFed), has supported a wide-range of causes in the community from financial education and the arts, to helping wounded warriors, and providing community resources to support the homeless.
The Schaefer Award, created by Comptroller Franchot four years ago, honors the legacy of public service exemplified by former Governor, Comptroller, and Baltimore City Mayor William Donald Schaefer.
WHEN: Wednesday, April 22, 2015 at 6 p.m.
WHERE: Berkshire Hathaway HomeServices PenFed Realty Office
Georgetown Square
10400 Old Georgetown Rd.
Bethesda, Md., 20814
CONTACT: Barbara Sauers
410-260-7438 (office)
410-212-9414 (cell)