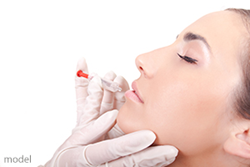 Los Angeles, CA (PRWEB) April 21, 2015
On April 2, 2015, Elle Magazine, in an article titled "Teens are Trying to Achieve Kylie Jenner Lips With Disastrous Results," reported that potentially hundreds of teen girls have injured themselves while attempting an at-home lip augmentation process. The idea behind the #KylieJennerLipChallenge on Twitter is that creating an airlock around one's mouth for several minutes will cause the lips to plump and achieve Kylie Jenner's now famous pout. (see: goo.gl/dFQW2L)
"Truth be told, this is the first I've heard of this challenge," says Dr. Simon Ourian, Medical Director of Epione Beverly Hills. "I hope the photos of swollen lips and bruised mouths are enough to dissuade anyone else from attempting this foolish and potentially dangerous activity."
According to the Elle Magazine report, the Twitter hashtag #KylieJennerLipChallenge has more than 700 mentions. Included with the report were multiple images posted by teenage girls that had tried the challenge. Nearly all had significant swelling and bruising, as well as a line around the mouth matching the shape of the glass that had been used to create the required vacuum seal. According to a physician quoted in the report, repeated attempts may result in permanent scarring or disfigurement.
"It's plain to see that attempting this challenge is a bad idea," says Dr. Ourian. "I hope that none of these girls suffers permanent damage."
Dr. Ourian has been a pioneer in laser technology and non-invasive aesthetic procedures including UltraShape, VelaShape, Restylane, Juvéderm, Radiesse, Sculptra, and CoolSculpting. These treatments are used for the correction or reversal of a variety of conditions such as acne, acne scars, skin discoloration, wrinkles, unwanted fat, stretch marks, varicose veins, cellulite, and others. More information about lip augmentation can be found on Epione's website.