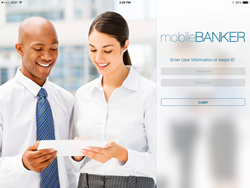 "As the frequency of face-to-face customer contact decreases, we must take maximum advantage of every encounter," states Richard Callicutt, President and CEO of BNC.
Charlotte, North Carolina (PRWEB) April 22, 2015
Today Zenmonics Inc., a leader in information technology solutions for the banking and finance sector, announced that Bank of North Carolina (BNC) has launched the Zenmonics mobileBANKER platform to transform its customer sales and service capabilities.
By combining data and services from disparate bank systems including Jack Henry's SilverLake, Zenmonics' mobileBANKER delivers a complete array of sales, marketing, transaction and account services functions through a single app on a secure tablet or desktop device. BNC is equipping its community bankers with apps capable of performing prevalent services, collecting sales leads and updating their sales pipeline. From the comfort of the customer's home or office, BNC Associates are performing needs assessments, reviewing targeted offers, making multimedia product presentations, beginning the account opening process and conducting the bulk of customer service transactions.
Within the lobby, Associates now work side-by-side with customers to manage their banking needs in real time. This drastically changes the branch dynamic and presents new opportunities for "brick and mortar" concepts.
"As the frequency of face-to-face customer contact decreases, we must take maximum advantage of every encounter," states Richard Callicutt, President and CEO of BNC. "The primary purpose of deploying mobileBANKER is to make every BNC Associate customer aware and always equipped to enhance our relationship."
"We were very happy with the ease of integration with SilverLake and other systems," states Michael Bryan, CIO of BNC. "With a 360° view into our customer's relationship with BNC and the ability to conduct the bulk of services, Associates deliver accelerated service and, more importantly, demonstrate our appreciation for their business."
mobileBANKER is powered by the Zenmonics channelUNITED™ platform – a pioneering solution that provides banks with a common architecture for managing content consistently across multiple channels, including digital banking, mobile banker applications, self-service displays and kiosks. A united integration point enables a single, branded user experience across all digital endpoints.
"Zenmonics is excited to prove the viability of mobileBANKER on the SilverLake platform," said Riaz Syed, Zenmonics founder and CEO. "The integration was very straightforward thanks to JHA's jXchange™ and we look forward to further success on the SilverLake core."
About Bank of North Carolina
Bank of North Carolina is a commercial bank with approximately $4.2 Billion in assets that provides banking and financial services to individuals and businesses through full-service banking offices in North and South Carolina. Bank of North Carolina is insured by the FDIC and is an equal housing lender. Stock for BNC Bancorp, the parent company of Bank of North Carolina, is quoted in the NASDAQ Capital Market under the symbol "BNCN."
About Zenmonics Inc.
Zenmonics is a global technology services and product company serving the banking and financial technology market in more than 60 countries. We specialize in channel integration, bank technologies and mobility solutions for the financial services industry – from small community banks and credit unions to the world's largest financial services organizations. Zenmonics is headquartered in Charlotte, N.C., with additional offices in Hyderabad, Mumbai and Bangalore, India.