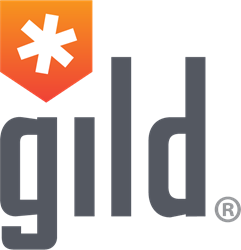 San Francisco, CA (PRWEB) April 21, 2015
San Francisco – April 21, 2015 — Gild, the company that powers the way companies find, engage, and hire talent with data and intelligence, today announced the availability of the industry's first end-to-end smart hiring success platform. The Gild Platform brings together all the elements companies need for hiring and applies data science, consumer-friendly technologies, and predictive analytics to every phase of the talent acquisition process. With a platform that automates routine processes and helps users make better hiring decisions, companies can now focus on hiring the right people from all functions and industries for the right roles faster and more effectively.
"The software market for the HR industry is overflowing with inflexible systems and legacy technologies that don't deliver the data or processes modern companies need to compete," said Zach Lahey, Research Analyst at Aberdeen Group. "Thankfully, we're starting to see that change with a new wave of Hiring Success Management solutions. These innovators are adapting scientific breakthroughs in fields like e-commerce and consumer products to make finding, interviewing, and hiring the right candidates easier and smarter."
Conventional hiring systems and processes are manual, repetitive, and slow. In fact, more than 80 percent of a recruiter's time today is spent on low-value, repetitive tasks. The Gild Platform revolutionizes hiring by incorporating the principles of Hiring Success Management into every step of the hiring process, so companies can spend more time on high-value, strategic tasks like building their employer brand. Inspired by today's popular consumer technologies, The Gild Platform applies the same type of data science, predictive analytics, and automation to hiring to ensure data is always fresh, processes are intuitive, and real-time collaboration is easy.
"Hiring is really hard work," said Sheeroy Desai, CEO of Gild, "and a recruiter's job is time-consuming, exhausting, and rarely appreciated. We don't think it needs to be that way anymore. That's why The Gild Platform uses the latest data science and predictive technologies to give hiring teams super powers that make them more effective. And by eliminating the mindless side of hiring with automation, we've freed recruiters and hiring teams for the first time to work smarter, collaborate more easily, make better hiring decisions, and focus on important things like showcasing their employer brand and building relationships with hiring teams and candidates."
"Since we implemented Gild, we've seen a huge improvement in the way our hiring team works," said Lori Russo, Head of Global Talent Acquisition at TripAdvisor. "We're moving faster, finding better candidates, spending less time searching blindly, and more time making valuable contacts who can make a real difference in our business. In this job market, talent is priceless, and good people are hired fast. Being able to find the right talent and act quickly—thanks to Gild—is an enormous advantage."
About The Gild Platform
The Gild Platform is designed to work the way recruiting and hiring teams do, with features that support the entire hiring process from start to finish. Its open API also allows easy integration of additional third-party applications.
Key platform features include:

Job creation and posting: Gild automatically suggests the most popular job titles and relevant descriptions to optimize job requisitions to attract the right prospects, then posts them to thousands of job boards with a single click.
Smart sourcing: Gild's hiring recommendation engine scours the web to compile a list of relevant prospects. Gild indicators tell recruiters which prospects are most likely to change jobs and the right time to reach out to them. Gild also applies patented technology to score tech prospects' expertise (based on publicly available work) and demand (based on the current job market).
Automated candidate management: The whole hiring team can collaborate on candidate profiles with data that automatically refreshes, share information, and track interactions to build a robust talent pipeline.
Scheduling and interviewing: Gild automates interview scheduling with smart technology and connects interviewers and candidates online with a collaborative video interviewing system, so they can instantly share files and notes.
Collaborative follow up: Hiring teams can easily communicate about candidates using comments or task alerts and track emails through integrated messaging, so they can work together smarter and more effectively, and make better hiring decisions.
Analytics and reporting: With Gild's analytics dashboard, recruiters get key metrics to identify things like the sources that attract the most candidates, and can create customizable reports to help make smarter hiring decisions or revise their strategy based on actionable data.
About Gild
Gild is transforming the talent acquisition industry and fundamentally changing how the world hires. Fueled by data science, consumer-friendly technologies, and predictive analytics, Gild's smart hiring platform powers the way companies find, nurture, and hire talent across all industries and functions. Gild is used by growing companies to hire the talent they need to innovate and succeed—smarter and faster. Founded in 2011, Gild is headquartered in San Francisco, with offices in Salt Lake City and Milan.