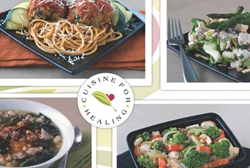 Arlington, TX (PRWEB) April 21, 2015
Arlington, TX – Liljenberg Insurance Group debuts the new charity campaign in its recognized Community Program in Texas, and announces that will direct its efforts to raise funds for Cuisine for Healing. The earnings of the campaign will be used to continue providing healthy meals to people who are struggling to maintain a quality of life for themselves and their families while they are battling a life-threating illness. Donations are being accepted through the campaign's page at http://liljenberginsurance.com/Cuisine-for-Healing_13_community_cause.
The American Cancer Society estimates that roughly one-third of the cancer deaths that occur in the U.S. each year are due to poor nutrition and physical inactivity. Cuisine for Healing's vision is a world where cancer and other related illnesses are prevented, treated and even eliminated through the power of healthy food. The organizations mission is to make nutritious, delicious food readily available to people combating disease, while educating about the power of healing food.
"Cuisine for Healing is a remarkable organization created by a young mother who was in the middle of her courageous battle with breast cancer and decided to turn to food to prolong her life; she defied the odds but passed away in 2008. We are joining them to raise awareness about the importance of eating nutritious food, especially when facing a life-threatening disease, and raising funds so they can continue providing these meals to people in need," said Lezlee Liljenberg, the Agency's principal.
Through the agency's network of customers, business partners, friends, staff and family, the initiative to spread the word about Cuisine for Healing. The campaign will be promoted over the course of the next 45 days, through the agency's social media channels, email and text message communications, as well as through their monthly magazine, delivered to thousands of households in Texas, where the agency currently operates. Our Hometown magazine reserves a full page to feature the organization's story, and other details. The electronic Flipbook version of the current issue can be accessed here: http://liljenberginsurance.com/Our-Hometown-Magazine_46.
Those with a heart for helping the community are encouraged to visit http://liljenberginsurance.com/Cuisine-for-Healing_13_community_cause, and also share the page with friends and family. The agency will acknowledge those who contribute in their monthly magazine.
The Community Program held by Liljenberg Insurance Group will continue to highlight and support people in need in their community. Every 60 days, a new campaign will be launched, in collaboration with local non-profits and community members. More information regarding past and current campaigns supported by Liljenberg Insurance Agency can be found at http://liljenberginsurance.com/community-cause. More information about Liljenberg Insurance Group and Cuisine for Healing are available at http://www.liljenberginsurance.com/ and http://www.cuisineforhealing.org/
About Liljenberg Insurance Group
As a small business owner, Lezlee understands the importance of building a solid foundation for the future and developing long-lasting customer relationships. That's why she and her team are committed to offering clients the same level of service they'd expect from their own business dealings. When clients leave the office, they will feel confident, informed, assured and satisfied in their choices. To contact an expert at Liljenberg Insurance Group, call (817) 794-5887.