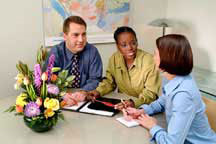 California Flower Mall helps businesses on a budget lavish their employees with cheap wholesale flowers that look tastefully expensive for Administrative Professionals Week April 19 - 25
Los Angeles, California (PRWEB) April 21, 2015
California Flower Mall petalers help business bloom with cheap wholesale flowers and plant gifts for Administrative Professionals Week that look tastefully expensive. New studies show workplace flowers and plants boost business success.
California Flower Mall petalers help businesses on a budget lavish their employees with cheap wholesale flowers up to 70% off retail prices for Administrative Professionals week April 19 – 25, 2015. New studies indicate that a small investment in workplace flowers and plants can boost business success.
"Science has confirmed what the floral trade and the public have always known -- bringing fresh, colorful flowers and live green plants indoors makes people happier because it connects them to nature. Happy people are more engaged, creative and successful at work," says Mark Chatoff, President of California Flower Mall.
New behavioral research from Harvard University, Massachusetts General Hospital and Texas A&M University for The Society of American Florists validate that workplace flowers and plants play a big role in boosting employee well-being, productivity and overall business success, according to SAF.
"Our research shows that a change as simple as adding flowers and plants can be important in the most meaningful way to businesses in the modern economy," says Dr. Roger Ulrich, lead researcher on the Texas A&M University project. "People's productivity, in the form of innovation and creative problem solving, improved - which in certain circumstances could mean the difference between mild and great business success."
Highlights of the Texas A&M study exploring the link between flowers and plants and workplace productivity include:
> Participants performed creative problem solving tasks in a variety of common office environment settings --with flowers and plants, with sculpture and with no decorative embellishments
> Both women and men demonstrated more innovative thinking, generating more ideas and original solutions to problems in the office environment that included flowers and plants
> Men in office environments with flowers and plants generated 15% more ideas
> Women generated more creative, flexible solutions to problems when flowers and plants were present
Recognizing the value of an administrative professional's contribution with gifts of plants and flowers is a warm personal gesture of appreciation and a proven productivity booster. According to Nancy Etcoff, Ph.D., the lead researcher on the Harvard University and Massachusetts General Hospital Studies, workplace productivity conclusions include:
> Workplace productivity is largely affected by the quality of human relationships including cooperative, social group moods and interaction
> Workplaces that provide positive environments that foster interpersonal trust and quality personal relationships create the most committed and productive employees
"It's easy for businesses to mind the bottom line and show an elegant, heartfelt expression of gratitude to the administrative professionals on their team when they buy flowers wholesale from CFM suppliers," Chatoff says.
About California Flower Mall
The California Flower Mall, located at 825 San Pedro Street, is one of the largest DIY L.A. wholesale flower marts in the eight block LA Flower District trade community -- the largest concentration of wholesale flower markets and flower businesses in the U.S. CFM is open free to the trade and public seven days a week.