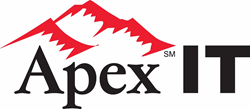 Minneapolis, MN (PRWEB) April 21, 2015
Apex IT, a Platinum level member of Oracle PartnerNetwork (OPN), today announced it has achieved OPN Specialized status for Oracle Marketing Cloud's Oracle Eloqua and Oracle Content Marketing Cloud Service.
To achieve OPN Specialized status, partners must meet a stringent set of product-specific competency and business requirements that are based on the needs and priorities of the customer and partner community. By achieving a Specialized distinction, Apex IT has been recognized by Oracle for its expertise in delivering services specifically around Oracle Marketing Cloud through competency development, business results and proven success.
Specialization can provide customers with confidence that a partner is qualified in the defined product or industry area and able to successfully develop, architect and implement specific solutions.
"Our team has worked incredibly hard to get the knowledge and experience needed to attain this specialization," said Chris Rapp, CEO of Apex IT. "We look forward to putting these skills to use in future implementations".
"Apex IT has been part of Oracle PartnerNetwork for over 15 years, and this Specialization demonstrates Apex IT's continued commitment to improving the customer experience," said David Hicks, vice president, ISV/OEM business development and marketing, Oracle.
With this Oracle Marketing Cloud Specialization, Apex IT showcases their skillfulness and differentiates themselves in the market. Apex IT looks forward to better serving clients with an experienced, well trained team that is able to implement Eloqua to solve a variety of business needs.
About Apex IT
Founded in 1997, Apex IT has grown continuously, but the mission has stayed the same: to help public sector, corporate, and higher education clients use technology to streamline their processes and increase productivity and profitability. To date, Apex IT has completed more than 1,650 engagements around the globe, helping clients with everything from strategic guidance to implementation to long-term direction. Apex IT is dedicated to staying ahead of the competition in offering clients the People, Processes, and Technologies that will meet their changing demands.
About Oracle PartnerNetwork
Oracle PartnerNetwork (OPN) Specialized is the latest version of Oracle's partner program that provides partners with tools to better develop, sell and implement Oracle solutions. OPN Specialized offers resources to train and support specialized knowledge of Oracle products and solutions and has evolved to recognize Oracle's growing product portfolio, partner base and business opportunity. Key to the latest enhancements to OPN is the ability for partners to differentiate through Specializations. Specializations are achieved through competency development, business results, expertise and proven success. To find out more visit http://www.oracle.com/partners.
Trademarks
Oracle and Java are registered trademarks of Oracle and/or its affiliates.