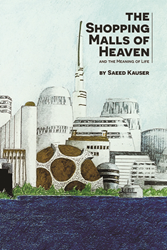 "Shopping Malls of Heaven and the Meaning of Life" is a roadmap to gain entrance to Heaven.
Santa Monica, California (PRWEB) April 21, 2015
In the vein of "Proof of Heaven" by Eben Alexander, "Shopping Malls of Heaven and the Meaning of Life" is a roadmap to gain entrance to Heaven and manual on how to live. Saeed Kauser gives readers the Islamic view of Heaven and provides readers of every faith and religion a more detailed description of Heaven than has previously been available. Anyone who believes in Heaven must have wondered what it will be like? Will it be a physical place or a spiritual one? Will there be houses in Heaven? Will we eat and drink? Will we go shopping? Shopping Malls of Heaven provides precise answers to these and other questions.
With the information Saeed Kauser has uncovered, he creates such a vivid picture of heaven that it has forever changed his own view of life. Being raised Muslim, Kauser has drawn from traditional and less well known Islamic sources as well as other Abrahamic religions—Judaism and Christianity—and even New Age beliefs and science. Although this knowledge has been available for over a thousand years, he never knew many of the details about the afterlife until he began delving deeper into the subject. These details have never before been released in one book.
The book will create a more open dialogue among people of all faiths as to the nature of Heaven and spirituality and is available now at Amazon and everywhere books are sold.
ABOUT QUATTRO MEDIA
Founded in 2004, Quattro Media is a content company with management, production, consulting, consumer products and publishing divisions. The Company's clients span all media and range in size from individuals to institutional clients. The management and consulting division represents a wide variety of writers, directors, and content owners ranging from newcomers to established talent, larger production companies and corporations. Quattro's publishing division was launched as a means of growing intellectual property and providing greater creative freedom and financial reward to writers and creators. It looks to foster new literary voices in graphic novels, adult fiction, non-fiction and children's books.
# # #