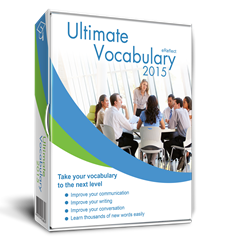 ...array of vocabulary exercises and games that make learning fun and appealing for the students...
New York City, NY (PRWEB) April 22, 2015
Ultimate Vocabulary™ EDU has been presented and discussed by educational organization Engaging Web Apps in an effort to raise awareness of the program's suitability for classroom learning, eReflect announced today.
Ultimate Vocabulary™ EDU is the latest release of the popular vocabulary builder, one which aims to make classroom learning for ESL and English native students easier and more enjoyable. Engaging Web Apps sums up the effectiveness of the program in a single sentence: "Helping students succeed, from grade school to grad school."
In a very detailed presentation of the program's features, functionalities, and new enhancements, Engaging Web Apps focuses on giving readers a clear picture of the program's suitability for vocabulary building in the classroom.
Engaging Web Apps explains that Ultimate Vocabulary™ EDU is a tailored vocabulary program for schools with unique features such as curriculum compatibility for students in many English speaking countries, and a user-friendly interface that allows for easy administration and monitoring by educators. More importantly, the program offers a vast array of vocabulary exercises and games that make learning fun and appealing for the students. At the same time, the program offers insightful reporting options for administrators so that they can fine-tune the learning experience for each student in a way that's constructive for everyone.
Engaging Web Apps also emphasizes that the program is cloud-based, which means students can access it on any device. Whether a student is at school, at home, or at the library, they can always resume their practice when it's convenient for them. The program is timesaving for teachers as it offers a comprehensive, curriculum-based list of activities. As a consequence, teachers don't have to spend time researching or developing additional classroom resources. Engaging Web Apps notes that Ultimate Vocabulary™ EDU is available for a 30-day free trial for schools and offers flexible licensing options for schools and institutions of all budgets and sizes.
***********
For more information on how you can benefit from Ultimate Vocabulary, please visit its official website, http://www.ultimatevocabulary.com.
About Ultimate Vocabulary™
Ultimate Vocabulary provides a proven and powerful platform, built to improve anyone's vocabulary.
The interactive self-improvement system provides more learning tools than any other program on the market, as well as more information on words.
The Ultimate Vocabulary software provides each and every user with a personal computer tutor. Providing a step-by-step guide to learning a powerful vocabulary, Ultimate Vocabulary is the learning tool everyone can benefit from.
Of course, the software is also backed by eReflect's iron-clad money back guarantee.