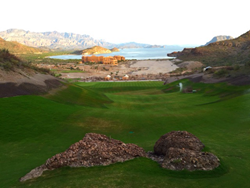 We are proud of the many eco-friendly practices we've implemented at Villa del Palmar at the Islands of Loreto. --Owen Perry, owner and president of Villa Group
Islands of Loreto, Baja California Sur, Mexico (PRWEB) April 22, 2015
Villa del Palmar at the Islands of Loreto, the newest member of Villa Group Resorts and Baja's first million-star resort, is showcasing its year-round sustainable efforts by land and sea in honor of Earth Day.
The resort's environmentally friendly initiatives range from solar panel-lined roofs to a sophisticated seawater purification system, as well as greywater and regular recycling systems. In addition, the 7,400-yard Rees Jones-designed Danzante Bay golf course, which is slated for a Fall 2015 opening, is taking shape with a number of eco-friendly measures in mind.
"Maintaining unspoiled views, crystal clear waters and a rich environment is a vital piece of who we are," said Owen Perry, owner and president of Villa Group. "We are proud of the many eco-friendly practices we've implemented at Villa del Palmar at the Islands of Loreto. We are dedicated to doing our part to preserve the area's natural beauty and cultural history by minimizing our environmental footprint as much as possible."
Danzante Golf Course, which will offer a challenging, yet friendly golf experience, is being designed to work with the natural beauty and serenity of its surrounding environment. For example, where possible, plants that must be removed during the construction of the course are being transplanted and relocated throughout the golf course to maintain native landscaping. Those plants that are unable to be transplanted are being used as compost and reintroduced to the area's soil. In addition, the resort is opting for organic fertilizers instead of hazardous chemicals, as well as maintaining the course with treated water and the use of solar energy for water heating needs, in order to protect the natural environment.
Opening in Fall 2015, the golf course will also include a clubhouse, driving range and putting green as well as beachfront holes.
Guests who visit Villa del Palmar at the Islands of Loreto, located off the pristine eastern coast of the Baja Peninsula, are awestruck by the natural beauty of the region, which includes the majestic Sierra de la Giganta mountain range and indigo waters of the Sea of Cortez – once dubbed "The Aquarium of the World" by explorer Jacques Cousteau.
The resort's location within the world's second largest protected National Marine Parks helps limit the size and power of boats that traverse its waters, keeping pollution from watercraft to a minimum, meanwhile protecting the area's abundant marine life. Villa del Palmar at the Islands of Loreto has worked closely to preserve indigenous flora and fauna in the region with the Secretariat of Environment and Natural Resources (SEMARNAT), which is the federal agency responsible for promoting the protection, restoration and conservation of ecosystems, natural resources, environmental goods and services in Mexico.
As for other ways in which Villa del Palmar at the Islands of Loreto goes green, its solar-panel-lined roofs collect and store power from the area's more than 300 sunny days each year, greatly reducing the resort's energy needs.
The resort also uses a seawater purification system that collects and purifies water from the Sea of Cortez for use throughout the hotel. The system mitigated the need to create a 30-mile water pipeline from the town of Loreto to Danzante Bay. In addition, the resort created a greywater recycling program, which helps conserve water and aids irrigation on the property, as well as recycles aluminum, glass and plastic.
Other sustainable efforts include the Villa del Palmar at the Island's of Loreto's maintenance of its own vegetable and herb garden, which are used in gourmet meals at its three restaurant – The Market Restaurant, Casa Mia and the fine-dining Danzante Restaurant – for a farm-to-table experience.
A designated UNESCO World Heritage Site, Loreto was listed in the New York Times' Top Ten Places to Go in 2011. The travel article featuring The Islands of Loreto, Baja California South, Mexico ranked first among readers. Likewise, the resort's 39,000 square-foot Sabila Spa and Wellness Center also earned accolades, coming in at number six on Spafinder's Top 10 list of spas to visit in Mexico, in 2013. The resort is also currently a nominee for "Mexico's Leading Beach Resort" in the 2015 World Travel Awards. Voting is available though August 9, and can be cast here: http://www.worldtravelawards.com/vote-for-villa-del-palmar-at-the-islands-of-loreto-2015.
For resort reservations or additional information, please contact the resort at reservaciones.vdpl(at)vgloreto(dot)com or call 800.790.4187. To learn more about Villa del Palmar, visit http://www.villadelpalmarloreto.com.
About Villa del Palmar at the Islands of Loreto: Baja's First Million Star Resort
Villa del Palmar at The Islands of Loreto is a luxury destination resort on the Sea of Cortez, off the eastern coast of the Baja peninsula overlooking Danzante Island (one of five in the region). Flanked by the rugged Sierra de la Giganta range, the Villa del Palmar is the first and only resort to occupy one of the Gulf of California's last virgin coastlines. The resort features 181 new, spacious, beautifully appointed Deluxe Ocean View, one, two and three bedroom Suites with terraces and stunning ocean and mountain views, three restaurants offering gourmet dining, an attentive English-speaking staff, five swimming pools, a 39,000 square-foot Sabila Spa and Wellness Center, two tennis courts, beautiful beaches, a private beachfront Danzante Bungalow and a mild and warm climate year-round. The 7,400-yard Rees Jones-designed Danzante Bay golf course opening October 2015 will offer a challenging, yet friendly course that works with the natural beauty and serenity of the surrounding environment.
Guests can enjoy PADI-certified SCUBA diving lessons and snorkeling tours in the protected indigo waters that explorer Jacques Cousteau once dubbed the "Aquarium of the World." Outdoor adventurers can also experience tours of the nearby Coronado, Danzante and Del Carmen Islands atop an inflatable APEX boat, as well as swimming, world-class fishing aboard the "Mad Dash" tournament boat, paddle boarding, kayaking, whale watching and mountain biking. With complimentary shuttle service, guests can explore the historic town at the Islands of Loreto and visit the 1697 mission that made the town famous. The area is also known for its wildlife, including the 900 species of fish off the coast and in an area that has been declared a World Heritage Site. Hotel perks include a spa and fitness center, massages, salsa dance lessons and movie nights for children. Travelers can take a short flight from LAX on Alaska Airlines or from Calgary, Canada aboard WestJet, Canada's most-preferred airline, to the Islands of Loreto.
For additional information on events, amenities, or availability call 800.790.4187 or visit http://www.villadelpalmarloreto.com. Stay up-to-date on the latest happenings by finding us on Facebook (http://www.facebook.com/villadelpalmarattheislandsofloreto) or Instagram, Pinterest and Twitter as @VilladelPalmarL.