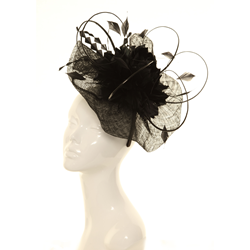 The Hawkins range of hats and fascinators is exciting for the Crystal Bridal Accessories boutique...after all, it isn't just the bride who needs to find the perfect accessories for her outfit!
(PRWEB UK) 29 April 2015
Crystal Bridal Accessories launches a stunning new collection of wedding fascinators and hats by renowned millinery brand Hawkins. Established as a casual and formal millinery creator for over twenty-five years, Hawkins has recently re-launched their occasion range of headwear with chic and fashionable styles of sinamay combs, fascinator headbands, discs and hats available in a range of colour options. For the Mother of the Bride, Mother of the Groom or discerning ladies looking for a formal headpiece, a fascinator or hat is the classic choice to add a traditional finishing touch to a wedding or Races outfit. Bows, feathers, flowers, quills and diamantes feature as stylish elements in our new fascinator and hats range available to purchase online.
Although bridal headwear has increased to a wider scope incorporating Boho inspired forehead pieces and vintage birdcage veils, the formal occasion hat or fascinator still remains a classic headpiece option for Mother of the Bride and Groom. The Hawkins range offers sophisticated design combined with versatile colour choices to match that elusive colour on a Mother of the Bride outfit – from vibrant pink and reds to elegant grey, silver and taupe colours. The fascinator options include comb or headband attachment with smaller looped designs for an understated look and large, fascinator hat options for a statement finishing touch. Along with the shoe dyeing service which also appeals to Mother of the Bride and Groom for colour match options, the new hats collection will ensure that wedding guests find all their perfect accessories easily and quickly.
"The Hawkins range of hats and fascinators is exciting for the Crystal Bridal Accessories boutique because it fills the gap in providing headwear for the entire bridal party – not just the bride and bridesmaids," says Amy Karim, owner of Crystal Bridal Accessories. "The ability to shop for wedding fascinator hats online makes shopping for the wedding guests more convenient – after all, it isn't just the bride who needs to find the perfect accessories for her outfit! "
"The choice of colours in the new online range is simply endless and Mother of the Bride and Mother of the Groom are guaranteed to find the perfect hat to match or accent their outfit! Some of the headwear is available in a two tone effect so if the outfit really is an unusual colour, it can be enhanced with a complementary tone which will match the shoes and handbag instead. The Hawkins range offers so many different designs which make the headwear versatile to fit almost any other formal occasion too including Ascot races and other Ladies' Day events," adds Amy.
The range of Wedding Fascinators and Wedding Hats are available on the Crystal Bridal Accessories website.
About Crystal Bridal
Crystal Bridal Accessories is an innovative business specialising in accessories for weddings, parties, balls, proms and special occasions. The online boutique offers the entire range of wedding shoes by Charlotte Mills, Paradox London, Benjamin Adams, Rainbow Club, Harriet Wilde and Love Art Wear Art and quality wedding hair accessories by Louis Mariette, Halo and Co, Ivory and Co, and other brands made with genuine Swarovski crystals. Crystal Bridal Accessories also stock a range of wedding hats, wedding fascinators, wedding gloves, Joyce Jackson wedding veils, bridal sashes and Lily Bella bird cage veils. Crystal Bridal Accessories is for the bride, bridesmaids, mother-of-the bride and for anyone who loves shoes, jewellery and handbags.
Crystal Bridal Accessories has been nominated for finalist for the British Wedding Awards 2015, Nominee for the Wedding Industry Awards 2014, Perfect Wedding Magazine 2013 and 2014 and Wedding Ideas Magazine 2013 and 2014. The company was Highly Commended by Wedding Ideas Awards 2012 for contribution to Bridal Accessories.
Brides can shop online or visit the showroom in Meadowhall, Sheffield serving brides across Yorkshire. For further information or to request high resolution product images, please email us.