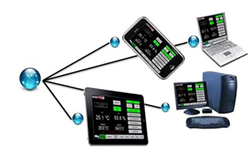 New Columbia, PA (PRWEB) May 06, 2015
Tenney, a Thermal Product Solutions company, boasts one of the most comprehensive lines of standard and custom environmental test chambers and rooms in the industry. Known for its innovative engineering and design, robust construction, and superior performance, the Tenney line of environmental test chambers is designed to meet all of your temperature, humidity, altitude, vibration, and vacuum-testing requirements. Tenney is pleased to announce the addition of the TPS Smart 1.0 Controller. The Smart 1.0 Controller is a scalable, extensible, and customizable controller which provides the best of both worlds – the cost effectiveness of a PLC and the flexibility of Windows. It has a real-time function screen, providing remote access via smart phone, tablet, etc., using an internet connection and VNC application.
Smart 1.0 offers smart, touch-screen navigation; smart data logging and trending; smart and intuitive alarms; and smart and easy programming. It has a WVGA 800 x 400 high-resolution, graphical touch screen; graphical user interface; 32-bit RISC 400 MHz central-processing unit; and 4GB (SD card) flash storage, capable of storing 100 profiles with 100 steps each. Built-in TCP/IP networking via a standard, Ethernet 10/100 communications port allows for easy transfer of alarm, program, and data log files.
Capable of running in single set point or programmed modes, Smart 1.0 enables test-data retrieval and profile-data transfer/sharing through a local FTP server via Ethernet connection. Individual PID control loops allow for precise process control, with ramp/soak programming for each loop. The Smart 1.0 Controller uses a 100-ohm, platinum RTD for temperature measurement and a dry-capacitance-type sensor for humidity measurement. It offers two process inputs and six event outputs for special applications. The controller's Smartwire architecture involves less wiring than other controllers, reducing the opportunity for errors and making troubleshooting and replacement easier.
An F4 Controller remains an available option on all Tenney Steady State and TC Series Environmental Temperature Cycling Test Chambers at no additional cost. A larger, 7" Smart 1.0 controller is available as a priced option.
Thermal Product Solutions (TPS) designs and manufactures industrial ovens, laboratory ovens and furnaces, and environment test chambers. Product brands include Blue M, Gruenberg, Lindberg/MPH, Tenney and Wisconsin Oven. TPS headquarters are located in New Columbia, Pennsylvania. Lindberg/MPH is located in Riverside, Michigan, and Wisconsin Oven is located in East Troy, Wisconsin.