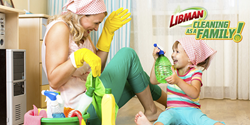 Arcola, Ill. (PRWEB) April 21, 2015
The Libman Company is on a mission to help families across the country be more informed and share experiences when it comes to cleaning with the entire family and kid-chore behavior. The company has unveiled its new online community, called "Cleaning As A Family," where bloggers and parents can come together to debate, discuss, share and assist one another.
Inside the community at http://www.CleaningAsAFamily.com, everyone will have the opportunity to debate, discuss, share experiences and problem-solve as it relates to the various topics. Additionally, Libman provides a number of simple downloadable tools such as chore charts, punch cards and dice chore games and reward cards that can help families customize their family cleaning schedules and at the same time, make cleaning and chipping in on chores more fun.
Community members will also receive perks such as Libman goodies and savings on products. From there, Libman hopes that the microsite will grow into a living resource for all parents.
"As a family company made in the USA since 1896, we understand the importance of family," said Andrew Libman, fourth-generation Libman and president of the company. "That's why we're on this mission, one that, with the opinion of bloggers and experts, will help families around the country be more informed when it comes to cleaning together as a family – because a family is where Libman got its start.," he added.
For more information or to join the "Cleaning As A Family" community, visit http://www.CleaningAsAFamily.com.
About The Libman Company
The Libman Company is a family-owned company that has been making quality cleaning tools since 1896. The company manufactures products from brooms and mops to more specialized tools for kitchen and bathroom cleaning and industrial uses. Libman proudly manufactures most of their products in the United States, including the company's well-known Wonder® Mop. For more information about the Libman Company, please visit http://www.libman.com.
# # #