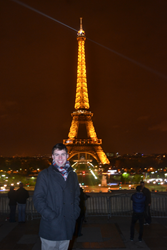 Every actor has a story to tell, the only thing that changes is the stage on which the story is told.
San Francisco, CA (PRWEB) April 21, 2015
The International Tour Management Institute (ITMI), the leading school for professional tour guides and tour directors, has found that actors are ideal candidates for this occupation. Actors can apply their talents to entertain and inform their tour guests. Tour guiding also offers actors the flexibility to work as much or as little as they desire, so that they can audition for film or stage roles between tour assignments.
According to Evan Kilgore, "Every actor has a story to tell, whether it is memorized or extemporaneous, topical and informative, or best of all from the heart. The only thing that changes is the stage on which the story is told, whether the setting is a regional theatre, a convention, a motor coach, or a historical site, detailing the history and culture of a destination."
"My theatrical background greatly prepared me for life on tour. The theatrical skills acquired through experience go hand-in-hand with tour directing skills, as one must handle not only the 'backstage' aspects of the logistics, coordination, and implementation of the tour, but also deliver stories 'onstage' that will move the audience to treasure fond memories of their vacation," adds Kilgore. "Actors may find that this has always been their true calling, but they had just not discovered it yet!"
"We have found that actors, singers and others with a performing background, possess skills that are a natural fit for tour guiding," says Ted Bravos, CEO of ITMI. "The explosive growth of the tourism industry offers performers an outstanding career opportunity that they may not have known about or considered."
ITMI offers comprehensive field and classroom training that prepares graduates for immediate employment. Individual strategy sessions held after course completion, help students identify their short and long-term objectives. ITMI also helps students with resume and cover letter preparation and assists them in arranging interviews with prospective employers.
Travel and tour companies constantly seek qualified professionals to direct tours or to serve as hosts on cruise ships. Fluency in a second language enhances employment opportunities and increases earnings.
About ITMI:
Since 1976, ITMI has been America's premier training and certification program for professional tour directors and guides, with over 7,000 graduates leading tours around the world. For more information about ITMI contact Annemarie Osborne Annemarie(dot)Osborne(at)gmail(dot)com, or (949) 237-2906 or visit http://www.itmisf.com.