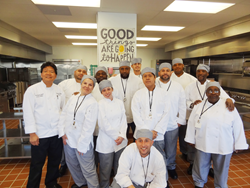 This experience gave me the opportunity to observe difference styles of cooking
Paterson, New Jersey (PRWEB) April 22, 2015
The James Beard Foundation offers current culinary students the opportunity to work side by side with some of the best culinary minds in the world through their Kitchen Volunteer Program. Students enhance their own skills, work with rare ingredients, and learn about wine and beverage pairings, all while networking with the exclusive cadre of chefs who pass through the Beard House kitchen on a daily basis. Several students from The Culinary School at Eva's Village applied for and were accepted into the volunteer program at The James Beard Foundation. "The students were ecstatic to have been chosen by the foundation," stated Chef Darryl Dela Cruz, executive chef at Eva's Village. "The opportunity provides a wonderful hands-on experience for our students."
Kabir, a student at The Culinary School at Eva's Village had the chance to work with both Chef Mads Refslund, head chef at ACME in NYC, and Nilesh Singhvi, executive chef at The Bombay Club in Washington D.C. "This experience gave me the opportunity to observe difference styles of cooking," stated Kabir. "Both chefs were very helpful and the experience was very rewarding."
The Culinary School at Eva's Village opened its door in March of 2014 and this past January began a fully integrated school curriculum providing skill and technique training at their 3,500 sq. ft. Prince Street Training Kitchen and quantity cooking experience at their Community (Production) Kitchen. Open to the public, the school has capacity for 24 students per course. In 2015 the school will run four courses beginning in January, April, June and September. The curriculum spans a five month timeframe, with students engaged in a full-time industry internship for the fifth month.
The school offers financial aid and other attributes which make it attractive to the public including, supportive services available within Eva's Village; experienced chef instructors, hands-on experience of working in a production kitchen; professional mentors; and a strong industry partnership for internships and job placement opportunities.
For application information on The Culinary School at Eva's Village, contact: Student Services at The Culinary School – Phone: (973) 523-6220 Ext. 253 or email Culinary.School(at)evasvillage(dot)org. To support The Culinary School at Eva's Village or one of our other programs visit http://evasvillage.org/donate2.shtml.
About the James Beard Foundation (JBF)
The James Beard Foundation is a New-York based non-profit that serves to promote the culinary arts by honoring outstanding chefs at annual award ceremonies and also by providing scholarships and educational opportunities to culinary students and up and coming chefs. Founded in 1986, the James Beard Foundation celebrates, nurtures, and honors America's diverse culinary heritage through programs that educate and inspire.
About The Culinary School at Eva's Village:
The five-month course provides fundamental cookery skills appropriate to basic positions in professional food preparation. Four-week modules include: Introduction to Culinary Arts/Breakfast Cookery; Buffet Prep/Short Order; Garde Manger/Pantry; and Introduction to Baking and Pastry Arts. Topics cover recipe and menu genres, culinary math, knife skills, safety and sanitation, and breakfast cooking. Students will also be coached in workplace readiness and life skills throughout the modules. As students advance through the modules they practice cooking techniques, including soup, stock, and sauce production, vegetable and starch cookery, and scratch preparation of salads and dressings. More advanced classes cover meat and seafood fabrication and cooking techniques, Garde Manger practices and baking and pastry cooking techniques and production. The final module includes a four-week industry internship with post-internship placement services.
About Eva's Village:
Eva's Village (http://www.evasvillage.org), originally a New Jersey soup kitchen, was founded in 1982 by Msgr. Vincent E. Puma in response to the increasing incidence of homelessness in his Paterson, NJ parish. But Msgr. Puma soon realized that a soup kitchen was not enough. With the generous support of thousands of donors and private and government grants, Eva's has grown to be the most respected anti-poverty program in New Jersey. Their mission is to feed the hungry, shelter the homeless, treat the addicted and provide medical and dental care to the poor with respect for the human dignity of each individual.