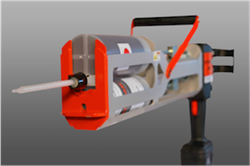 When just a few ounces of our RoadFoam is added to any Cold Patch material it dries within 10-15 minutes and is then is extremely durable and waterproof, allowing it to last for years
Tinton Falls, NJ (PRWEB) April 22, 2015
Appliqué Technologies International announced today that it has launched its groundbreaking RoadFoam ™ for Cold Patch product. Road Foam™ is a ballistic fiber and carbon reinforced high strength black foam. The material expands several times greater than its initial liquid state to fill even the largest potholes. Tathiana Carrasco, the company's CEO states, "Typical asphalt cold patch is soft for weeks, often fails upon placement and is replaced multiple times per year. When just a few ounces of our RoadFoam is added to any Cold Patch material it dries within 10-15 minutes and is then extremely durable and waterproof, allowing it to last for years." Since the amount of Cold Patch required is cut in half, a ton of Cold Patch blended with a little of the company's RoadFoam costs the same as a ton of hot asphalt.
The affordable material is an offshoot of a blast mitigating foam originally developed for use by the U.S. military. Through further research and development efforts, the company re-engineered the material to be optimized for use with asphalt and to dissipate vehicular loads instead of blast forces. Road Foam is applied using a state-of-the-art Pothole Gun™ and a dual cartridge containing the proprietary high strength foam material.
"We saw an opportunity to greatly improve road repair material and processes that are costing taxpayers millions of dollars per year based on failure and replacement costs. Municipalities often focus on how inexpensively they can repair potholes, but in reality, they are repairing the same potholes over and over. As taxpayers, we see little sense in paying for the same job to be done multiple times," says Carrasco.
We believe that it is possible to have a long lasting solution to the pothole pandemic for a low cost, but municipalities must be willing to change the way they have been repairing roads for decades past. Progressive DPWs will see that eliminating repetitive repairs makes obvious sense and greatly benefits taxpayers in both savings and improved road conditions.
The company's Road Foam also allows for tackling the pothole problem on many fronts since no large trucks or asphalt equipment is required to perform repairs. Since Road Foam kits are small, they can be provided to multiple Municipal DPW workers who can then perform repairs simultaneously. Current methods involve a centralized approach that revolves around a large truck and road crews. Road Foam addresses a decentralized problem in a decentralized manner.
The material is currently in production and is available for immediate delivery.
About Appliqué Technologies International, LLC.
Appliqué Technologies utilizes patent pending technologies to repair potholes and cracks. Rather than filling potholes and cracks, the company's technology involves injecting an environmentally safe, military-inspired, super high strength foam that is engineered to stay in a liquid state to penetrate all loose base material and then expand to lock it into place for several years.