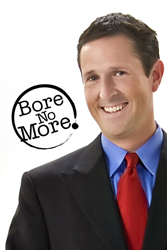 I am really looking forward to being a part of the event in New Orleans in September. I've enjoyed learning more about this industry and the unique opportunities and challenges it represents.
Stow, Ohio (PRWEB) April 22, 2015
Jon Petz, founder of Bore No More™, an idea lab for increasing personal and employee engagement will be a keynote speaker at the 27th Annual Conference of Mortgage Field Services. Petz will speak on the importance of personal and professional engagement, leadership innovation and the development of customer experience strategies.
As the author of several books, including the top-selling title, "Boring Meetings Suck", you can be assured that the address will be uniquely different, interactive, energetic and entertaining.
Jon has been delivering fascinating, fast-paced and funny presentations around the world and draws on his diverse experience as a top corporate executive, social experimenter, and professional comedy magician.
News outlets including USA Today, Wall Street Journal, CNBC, ABC News, Success Magazine have covered the success of Jon Petz as an author, thought leader and engagement expert.
The Annual Conference of Mortgage Field Services is open to all professionals in the default mortgage servicing industry. The event takes place September 2-4 in the City of New Orleans. Early bird registration is open through April 30th.
About NAMFS
The National Association of Mortgage Field Services, Inc. (NAMFS) is the premier trade association for the mortgage field service industry. We are dedicated to working with all entities of the industry from the Government Agencies and investors that set policy to the contractors and inspectors that perform the work.