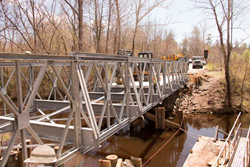 Fredericksburg, VA (PRWEB) April 22, 2015
The Virginia Department of Transportation (VDOT) installed an 80-ft steel panel bridge to replace an old, deteriorating two-lane structure —with timber pile decking— that was closed to traffic on March 30. Although the bridge is in a rural area, it averages 440 vehicles per day according to VDOT traffic data. The Compact 200 temporary bridge was provided by Mabey Inc., a construction equipment rental company, located near Baltimore, Maryland.
The newly installed bridge eliminates the need for a 22-mile detour along Newtown Road. Since the bridge will be a single lane, traffic signals were installed at both ends of the bridge to control east-and westbound traffic and allow motorists to take turns crossing the bridge.
Mabey's Compact 200 Bridge System can be quickly assembled because of its modular design. It is ideal for fast bridge replacement for unsupported spans up to 200 feet — or longer when using bridge piers. The bridge's modular design is also used for a variety of applications, from pedestrian bridges to bridges that can accommodate three lanes of traffic.
VDOT completed installation of Mabey's Compact 200 temporary bridge on April 17 and is scheduled to reopen the road by the end of April. The Mabey C200 bridge will be in place until a new bridge can be built which is scheduled to begin Summer 2016.
To find out more about temporary bridging or Mabey's services, visit http://www.mabey.com.
###
For over 25 years, Mabey Inc. has been a leader in engineered solutions for construction equipment rentals, including structural and excavation shoring, bridging, and temporary roadways. In addition to construction equipment rentals and matting installation, Mabey Inc. provides professional engineering services, on-site technical advisors and hands-on safety training.