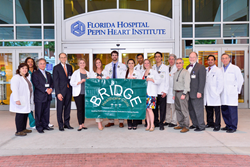 This is a natural extension of what our mission is all about, caring for people and giving back to our community.
(PRWEB) April 21, 2015
Further strengthening ties between the two institutions, Florida Hospital Tampa has committed $1.2 million in donated goods and services to the University of South Florida to help expand community-centered care through the USF Health BRIDGE Healthcare Clinic.
The BRIDGE clinic – a nationally recognized, student-run free community clinic in its eighth year – provides primary medical care to more than 800 underserved patients a year one night a week inside the USF Health Morsani Center for Advanced Healthcare. Paired with USF physicians, USF medical students along with students from colleges and schools of pharmacy, physical therapy, public health and social work donate their time as volunteers to care for uninsured University Area Community residents. The expanded BRIDGE clinic at Florida Hospital Tampa is located inside the Florida Hospital Pepin Heart Institute on Fletcher Avenue, just north of USF and will initially operate one night each month.
Expanding the multidisciplinary clinic into the walls of Florida Hospital Tampa matches both institutions' core mission of providing good health for all who need it, and is expected to enhance both the patient and the student experience.
"Florida Hospital's donation of goods, services, office space and personnel will help significantly increase the number of patients seen through the BRIDGE clinic, expand specialty care and procedures in areas of radiology, gynecology, orthopedics and surgery, and cut weeks off the appointment waiting times for new and established patients," said Michelle Blanco, a USF fourth-year medical student and executive student director at the clinic.
The expanded BRIDGE clinic, like the current one, continues to team medical and other health professions students with physicians. In addition to the USF Health doctors who volunteer at the Morsani Center site, the new site will bring in physician volunteers from Florida Hospital Tampa to supervise the student volunteers. As the numbers of participating hospital physicians grow, the clinic at the hospital may increase its capacity from one Thursday night each month to as many as four nights monthly. Officials from both institutions say the partnership adds to their ongoing research and patient care collaborations between the two institutions- which share a common mission to care for all patients in need across the Tampa Bay region.
"We're incredibly grateful," said Dr. Charles Lockwood, senior vice president of USF Health and dean of the Morsani College of Medicine. "This is a clear indication that our missions are completely aligned. We are here for the patients."
Dr. Peter Bath, vice president of mission for Florida Hospital West Florida Region, echoed Dr. Lockwood's sentiments and said partnering with the hospital's next-door neighbor to provide health care for struggling families was a continuation of the hospital's mission. "This is a natural extension of what our mission is all about, caring for people and giving back to our community," Dr. Bath said. "We know the needs are significant for the underserved and we will continue to look for ways to help the community throughout all of our nine Florida Hospitals in the West Florida Region."
About USF Health
USF Health's mission is to envision and implement the future of health. It is the partnership of the USF Health Morsani College of Medicine, the College of Nursing, the College of Public Health, the College of Pharmacy, the School of Biomedical Sciences and the School of Physical Therapy and Rehabilitation Sciences; and the USF Physician's Group. USF Health is an integral part of the University of South Florida, a high-impact, global research university dedicated to student success. For more information, visit health.usf.edu.
About Florida Hospital Tampa
Florida Hospital Tampa is a not-for-profit 475-bed tertiary hospital specializing in cardiovascular medicine, neuroscience, orthopaedics, women's services, pediatrics, oncology, endocrinology, bariatrics, wound healing, sleep medicine, general surgery including minimally invasive and robotic-assisted procedures and is home to Tampa Bay's first and only Doc1stERSM. Also located at Florida Hospital Tampa is the renowned Florida Hospital Pepin Heart Institute, a recognized leader in cardiovascular disease prevention, diagnosis, treatment and leading-edge research. Part of the Adventist Health System, Florida Hospital is a leading health network comprised of 23 hospitals throughout the state. For more information, visit http://www.FHTampa.org.