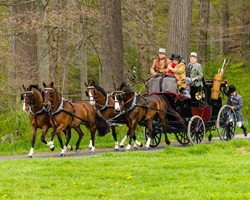 Point-to-Point is the Brandywine Valley's most stylish spring sporting event held on the glorious 1000-acre Winterthur estate.
WINTERTHUR, DELAWARE (PRWEB) April 29, 2015
A favorite attraction at Point-to-Point, the heralded Parade of Antique Carriages will delight thousands of spectators gathered at Winterthur Sunday, May 3, to celebrate the event's 37th year as a treasured rite of spring.
Point-to-Point is the Brandywine Valley's most stylish spring sporting event held on the glorious 1000-acre estate of Winterthur Museum, Garden & Library. Guests are treated to a thrilling day of professional thoroughbred steeplechase racing, exciting entertainment, magnificent horse-drawn carriages, and elegant tailgating on the rolling hills of Henry Francis du Pont's former estate.
Point-to-Point is the second largest professional sporting event in Delaware and is sanctioned by the National Steeplechase Association. In 2013, Top Events USA, which identifies the most popular events around the country, named Point-to-Point as one of the best events in the nation.
The highlight of the day's pageantry is the annual Parade of Antique Carriages, the largest assemblage of vintage and antique carriages in the United States. The stately procession of horse-drawn carriages was begun in 1978 by renowned artist and conservationist George A. ("Frolic") Weymouth of Chadds Ford, PA. The esteemed Chairman of the Board of the Brandywine Conservancy again will lead the caravan, which includes carriagers from the Delaware Valley and across the country.
Purchase wristbands online at winterthur.org/ptp; by phone at 800.448.3883 or 302.888.4994; by fax at 302.888.4650; at Winterthur; at all satellite sales outlets (see winterthur.org/ptp for a complete listing).

Cost:
$50 General Admission Wristband, April 25–May 2
$15 young adults (ages 12–20)
Children under 12 free, must have a wristband for admission (not available race day)
Winterthur Member discounts available
Find out more about Point-to-Point's distinct tailgate parking options at winterthur.org/ptp.
Advance sales only for wristbands and tailgate spots. All parking and admissions must be purchased by Saturday, May 2, 2015. No wristbands or tailgate credentials mailed after April 24. No reservations will be processed without payment. Races run rain or shine. No refunds.
Glenmede Trust is the Presenting Sponsor of the 37th Annual Point-to-Point. Land Rover is the Official Vehicle. Winterthur also thanks Capital One, Dogfish Head Craft Brewed Ales, Delaware Valley Land Rover Retailers, Weymouth, Swayze & Corroon, and Intercollegiate Studies Institute.
Point-to-Point is Winterthur's largest annual fundraiser and benefits the continued maintenance and preservation of the Winterthur Garden and estate.
For more information, visit winterthur.org/ptp. Like us on acebook.com/winterthurptp, and follow us on Twitter @wintermuse and use #ptp to join the conversation.